One of the most beautiful and celebrated sights during the spring season is the blooming of the cherry blossoms in Japan each year. Also known as hanami, hundreds of thousands of tourists flock to the country to witness the joyous occasion and have a picnic under the trees.
During this period, the popular cities especially Tokyo, Kyoto and Osaka become very crowded. For a cherry blossom experience away from the crowds, HomeAway, a leading vacation rental site, has put together a list of lesser-known alternative destinations in Japan for you to have your hanami party!
1. Nishi Park, Fukuoka
For a tranquil experience minus the crowds, visit Nishi Park with panoramic views of Hakata Bay. It has over a thousand cherry trees of different varieties, including the weeping cherry and the Oshima cherry. Settle under your favourite tree with some street food and sake, and take in the view of one of Japan's Top 100 Cherry Blossom Spots!
2. Amagi Park, Fukuoka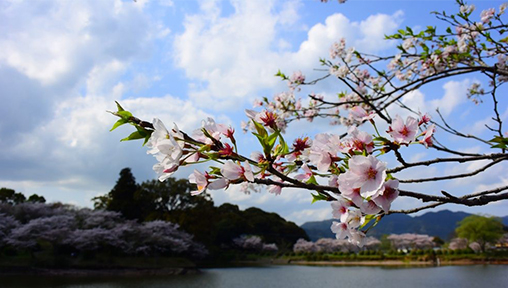 This huge park is a favourite among locals to enjoy abundant sakura amid a calm, natural environment. The park is home to around 4,000 cherry trees. Most of these have been planted around Sakura Pond located in the centre of the park.
3. Shukugawa Park, Kobe
The famous Shukugawa Park, located in the Hyogo Prefecture, is another beautiful location for travellers to admire the season of cherry blossoms, with the river forming a perfect reflection of the cherry blossom canopy overhead. During this season, a plethora of stalls selling Japanese drinks and snacks spring up in the area, making it the perfect location for an afternoon picnic with your loved ones.
4. Himeji Castle, Himeji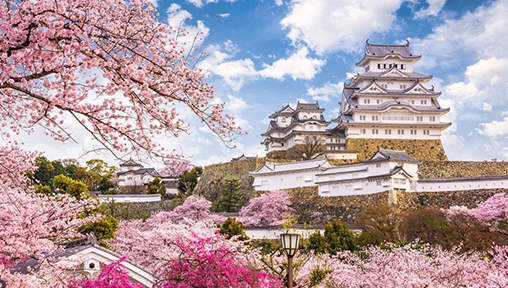 Apart from being one of the largest castles in Japan, Himeji Castle is also one of the top 100 places to view sakura in Japan. The blushing pink colour of the cherry blossoms against the shiny white of the castle is a breathtakingly beautiful site.
5. Oji Zoo, Kobe
Home to around 500 cherry blossom trees along with many adorable animals, the Oji Zoo in Kobe city is a must-visit when you are in Hyogo. There are an amusement park and a zoological science centre to keep your children occupied while you enjoy the beauty of cherry blossoms along the paths. We recommend that you avoid weekends if you want to skip the crowds.
6. Sankeien Garden, Yokohama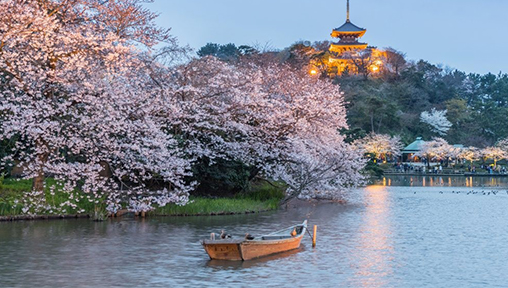 This massive Japanese garden is an ideal spot if you want to enjoy sakura in solitude. With over 300 blooming cherry trees and multiple historic buildings in the backdrop, Sankeien Garden promises an evening to remember. While you are there, don't forget to try a variety of teas and sakura specialities.
7. Ookagawa River, Yokohama
With almost 600 cherry trees nestled alongside the Ookagawa River in the Kanagawa Prefecture, the Ookagawa Sakura Festival is an annual hanami experience that should not be missed! With delicious street food stalls and loads of entertainment, this weekend festival is the proverbial cherry-on-top for your cherry blossom experience. If that isn't enough, head down to the Sankeien Garden and indulge your senses with pretty pink flowers, teas and seasonal sakura specialities.
8. Miyajima Park, Hiroshima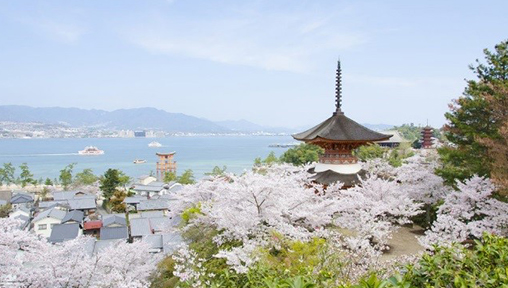 One of the most attractive tourist spots in the entire country, Miyajima is home to around 1,500 cherry trees. This small island close to Hiroshima, where tourists generally go to see the calming Itsukushima shrine and its torii gate, offers multiple sakura viewing experiences with calm corners and buzzing streets. However, it is said that the best views can be soaked in from the Tahoto two-storied pagoda.
9. Hijiyama Park, Hiroshima
Boasting one of the largest clusters of cherry blossom trees with over 1,300 trees spread across the park, Hijiyama Park is a mesmerizing place to arrange for a cosy hanami party with your family and friends. When you're done basking in the beautiful cherry blossoms, head over to the art museum or the manga library, both located within its premises, to rest and learn more about Japanese culture.
10. Maruyama Park, Hokkaido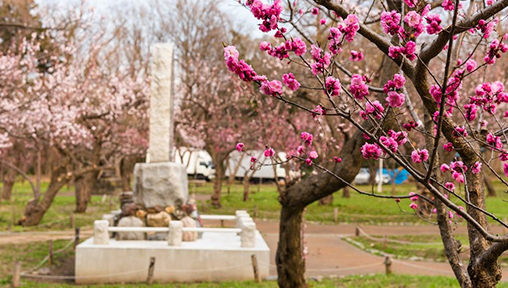 The Maruyama Park with the adjacent Hokkaido Shrine boasts of over 1,700 wild cherry trees in bloom during springtime. Located right beside the Maruyama Zoo and Wild Forest, you could take your family out for a wonderful day to bask in nature, from marvelling at the beautiful cherry blossoms in full bloom and flocks of woodpeckers gathering on elm trees at the park to majestic lions and giraffes resting in their massive enclosures.