India - A mystical land where a seventh of the world's population resides. It is also famed as a country of Bollywood dancers and has one of the richest heritage and culture. The country which was once ruled by kings and queens has redefined itself as a sought after luxurious destination where you can expect only the most lavish and regal hospitality. With Prince William and Kate Middleton's recent trip to India, we are bringing you on a tour to the different cities around the country where you are bound to feel like royalty too. 
Goa
If there is one city that has become the global destination for relaxation, it's Goa. Goa has some breathtaking properties that offer the good old Goan hospitality while providing you with thoughtful luxuries. Indulge in the steak at Martins, enjoy watersports at Candolim, or have a sundowner beer at Bagha beach. After a day of adventure, tuck yourself into a soft bed with a pillow of your choice at some of Goa's premier beachfront properties. Try the Park Hyatt Goa Resort and Spa in Cansaulim for instance.  Designed to resemble a Goan village, the resort is situated amongst magnificent beachfront gardens and shimmering waterways and lagoons.  The Leela at Mobor Beach is another stunning property, complete with a 12 hole golf course. Check into one the rooms or suites at The Club to enjoy private Butler service, personal plunge pools, airport limousine services and a privacy that only a select few can enjoy.
Kashmir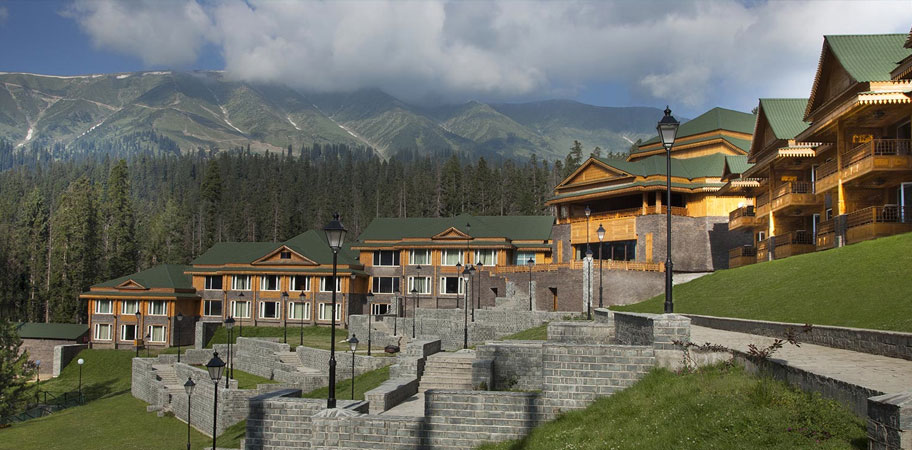 Khyber Resort, Gulmarg Kashmir
Soaring snow-capped mountains, Shikaras of Dal lake, the warm winter sun or the chill of fresh snow, Kashmir has risen from a long history of strife to become a popular tourist destination. If winter wonderlands are your idea of a perfect holiday then look no further than the Khyber resort in Gulmarg, winner of Asia's Best Luxury Resort and Spa. After enjoying skiing and snow sports outdoors, defrost in a heated swimming pool or take some pop corn into their mini theatre. The men have a boys only cigar club! Alternatively check into one of the five Butt's Clermont Houseboats moored in a sheltered corner of the Dal lake in Srinagar. Spend a lazy afternoon on the veranda admiring the stunning views of the waters and snow-covered peaks around with a cup of Kahwa.
Shimla
The hills in India have serenaded millions of tourists over the years. While Kashmir is reclaiming its spot on the world map, Shimla has been a popular destination for those seeking to escape the summer heat. Take a walk in the main city area, which still houses old British architecture and enjoy a spot of shopping. Alternatively just stay put in the decadent old world luxury of Wildflower Hall. Famous for its large ballroom, this Oberoi property encapsulates the best of Shimla in its décor and hospitality. Located at 8250 feet amongst sweet smelling cedar, this heritage property is old world luxury at its best. Four poster beds, fireplaces, a heated indoor pool and unparalleled views of the mountains and forests make this hotel truly a cut 'above' the rest.
Kerala
Kerala is quite fittingly called paradise on earth. With lush green mountains, copious waterfalls, and the now world famous Ayurvedic massage, Kerala has indulgent holidays to suit a varied palette. Stay at the well-appointed Leela at Kovalam, or travel far from the madding crowd to The Lalit at Kasargod, opting to stay for a few nights in their houseboat, Kettuvallam while sipping slowly on a cocktail and enjoying the pristine beauty of the Kerala backwaters.  Opt alternatively for a treehouse meant just for two at Rainforest Athirapally that offers spectacular views of the Athirapally waterfalls and the surrounding rainforest. Whatever your choice, Kerala is a gift that just keeps giving.
Agra
Almost synonymous with the Taj Mahal, Agra and its glistening white paean to love continues to attract intrigued visitors from around the world.  Since just one sighting of the Taj is often not enough, we suggest you enjoy some Mughal splendour just 600 mts away at the gorgeous Oberoi Amarvilas where each room has an unblocked view of this man-made wonder. Relax and enjoy as you watch a gorgeous sunset over the Taj, and take your private golf buggy for a visit to the monument. Raise a toast to love with someone special in the privacy of your balcony with a dinner for two, complete with flowers, candles, multiple courses of the best wine and food, all looked after by your personal butler and staff. Truly a gift for someone you love.
Hyderabad
Known for the old world charm of the Char Minar and some of the most delicious Biryani in the world, Hyderabad is an underrated holiday destination. The city was home to the Nizams, rumoured to be amongst the richest individuals of their time. Take a walk around the beautiful Chowmala Palace, or enjoy a beautiful sound and light show at the Golconda fort which was once home to the Koh-I noor diamond.
To continue your regal experience, check into the Taj Falaknuma Palace that opened its carefully carved doors after restoration. The property will excite all your senses with its ornate marble staircases, glistening chandeliers, antique furniture and rich velvet tapestry. There are 60 gorgeous rooms to choose from, each furnished in 120 year-old Burma teak and fine carpets from Turkey. If you want to take a luxurious vacation to the next level, check into the room of the erstwhile Nizam himself, the Grand Presidential suite.  It's the largest presidential suite in the country, and even today its walls whisper stories of its regal past. Relax by the soothing marble fountain with a book, or take a dip in your private swimming pool or Jacuzzi. Enjoy a private dining experience or take enjoy an invigorating Champagne Palace walk to soak in the palace history and architecture. If you wanted a personal fairytale, then this is wonderland on earth.
Contributor: Saraswati Datar
Saraswati Datar studied film making, worked in mainstream television, and now freelances as a writer. She is passionate about cinema, gender, travel, literature and food. Though she  lives in Singapore her heart has been left behind in the madness of Mumbai.