What makes us Singaporean? Who we are, the people we hang out with and where we go. This National Day we thought to focus on the quintessential activities and places that are a way of life on our little red dot. Nooks and crannies that are predictable and some celebrity secrets, tell us if these match your personal lists too! 
1. Catching up with friends at Hawker centers
After Hong Kong Soya Sauce Chicken Rice & Noodle won the first Michelin star for a street food stall, hawker centers are back in the news. Lau Pa Sat may be full of heritage but the truly authentic experience lies in eating from the stalls at some of our favourite haunts such as the Airport Road Hawker Center. Here's where you will find us squabbling over - Satay and Laksa topped off with obviously chilled Tiger beer.
2. Taking in the fireworks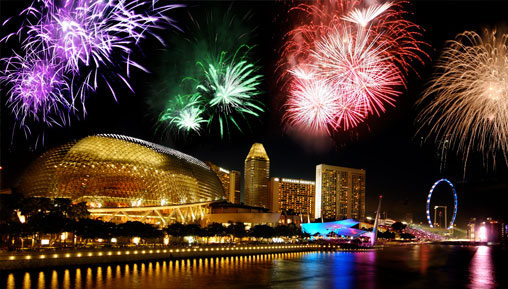 Image Credits: WikiMedia
We do things grand and we do it often. Other countries have them a couple of times a year but we are spoilt for choice when it comes to firework displays in this city. With a chance of catching at least 5 displays in a year, these fireworks mean an occasion to meet the people you love over the most gorgeous views across Singapore. Where else in the world will officials list the best place to watch the NDP fireworks as parks, footpaths and housing board estates? The National Day fireworks this year will yet again draw up a crowd at all easily accessible viewing points, wine and picnic basket included.
3. Partying at the latest hot-spot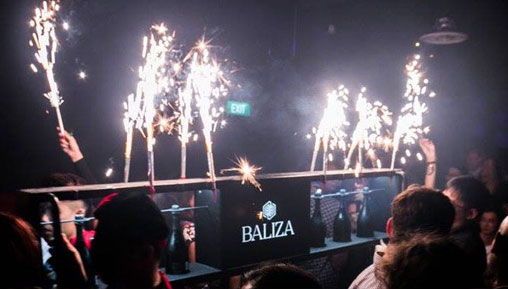 The city has such a fast turn around of party places, that Singaporeans in the know like to keep discovering newer ones. Imagine yourself dancing at a hot new jaunt only to find Selena Gomez lining up for entry too? Recent celebrity sightings have led to Baliza being called the new go-to club in town, so clearly the who's who know where to head. 
4. Running every circuit in town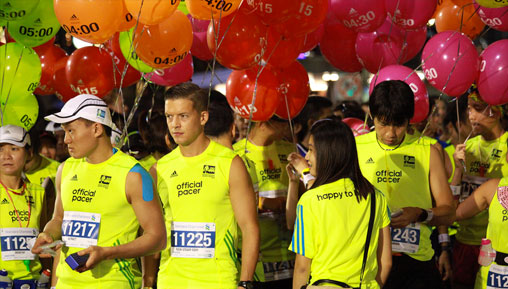 Image Credit: RunSociety
We are convinced that most Singaporeans have wardrobes theming with every possible shade of Marathon vests. There is always a reason to run in this country and countless folks join the bandwagon every month. Whether for a cause or your own fitness levels, the energy on the running tracks is something we find quintessentially Singaporean. Justrunlah.com is our go-to running calendar that keeps us up to speed on the daily run schedule. With four runs scheduled at Gardens by the bay for August alone, you know where the crowds are going to be.
5. Riding on the MRT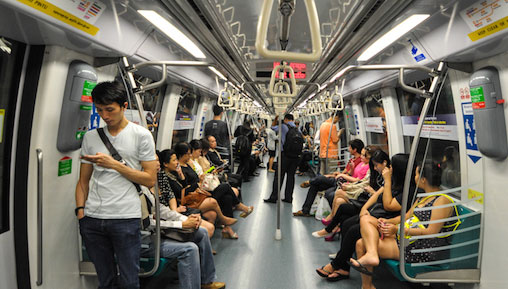 Rich or not so affluent, the people of this country take pride in what is perhaps the cleanest, safest and most reliable train system in the world. Do remember though that the MRT is not a place for us to mingle. We take advantage of the long ride times to watch videos, finish up emails or to catch up with friends over social media (but more on that later!).
Fun fact - ever wondered why the distance between Khatib and Yio Chu Kang MRT is so long? It's because a Disneyland was initially slated to be built there to compete with Hong Kong's version! Disneyland or not we don't think twice before taking public transport and make sure the ride's worth our while.
6. Cycling at East Coast Park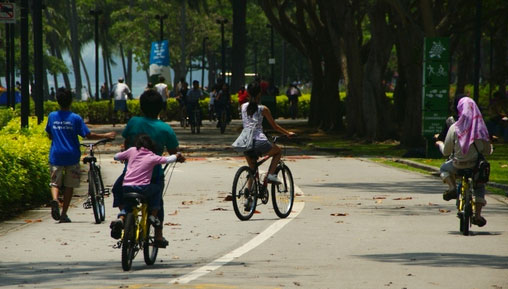 We may not have a car, but we will invest in a great bike! From vintage style Raleighs to the sleekest mountain bikes, there is a huge cycling community in this city and one that keeps moving. Breeze in our hair, we are often found at the East Coast Park taking in a beautiful seaside ride, more often than not followed by some scrumptious food too!
7. And of course chatting on our phones
With Singaporeans spending around 3.5 hours on their phones every day, it's no wonder that we see this as a common trait on the island. We can walk, ride on escalators and balance bikes (we don't encourage this one at all.) while texting, browsing or simply watching a video. If you want to talk to us a message would probably get our attention sooner than an attempt to make eye contact!