Dubai - the land of sheikhs, supercars and splendor. This lavish country seems to be a favourite destination of celebrities, sports personalities, high profile corporates and the occasional billionaire or two. To be honest, we can't blame them.
Dubai is a country where you truly get to enjoy a lavish holiday beyond your wildest dreams. To help you get to know more about the uber luxurious experiences in Dubai, we have put together a list of some of the most opulent activities that you can partake in when visiting Dubai.
1. Stay at the Burj al Arab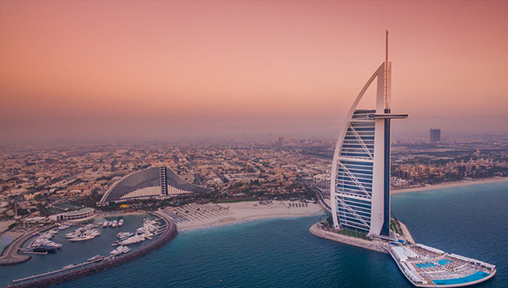 Image Credits: Jumeirah group
Live life King-size, or so they say. When you check in at the Royal 2-bedroom Suite at the Burj al Arab, you are truly living king-size. The 780 square metre Royal Suite features exclusive amenities such as a private lift and cinema. Other features of the suite include Exquisite majlis style lounge and library. Private dining room for 12. Two large dressing rooms. The world's largest brigade of butlers, available 24 hours. In-suite check-in and check-out. Two private bars. Two master bathrooms, each with full-size Jacuzzis and separate five-head rain showers. A set of his and hers full size Hermes amenities in each bathroom.
That's not all, it also includes the ultimate sleep experience: a selection of 14 types of pillows, Eiderdown duvets, exquisite Egyptian cotton linen and an ultra-deluxe super king bed personalised to suit your specific posture preferences.
Damage: AED 28,000++ (USD 7,500)
2. Ride on a Hot Air Balloon and Enjoy Gourmet Breakfast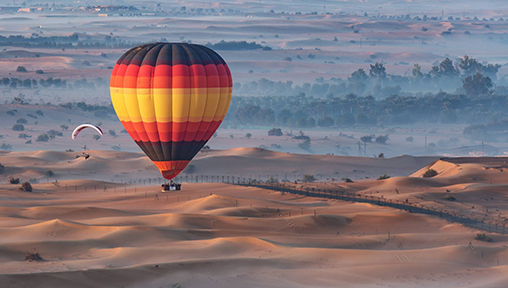 Image Credits: Balloon Adventures UAE
Early birds, we imagine that this is an activity you would love. Imagine floating in the skies of Dubai on a Hot Air Balloon ride with Peregine falcons – the world's fastest animal. Once you land, enjoy a ride in an historic open top 1950's Land Rovers to a private desert conservation reserve to an authentic Bedouin camp where you will have the chance to freshen up at clean, private bathrooms. Feast on a gourmet breakfast of caviar, smoked salmon, Eggs Benedict, fresh fruit and more. What more could you ask? It's a total experience of the desert from above and below.
Damage: AED 16, 275 (USD 4,400)
3. Taste a 23-Carat Ice Cream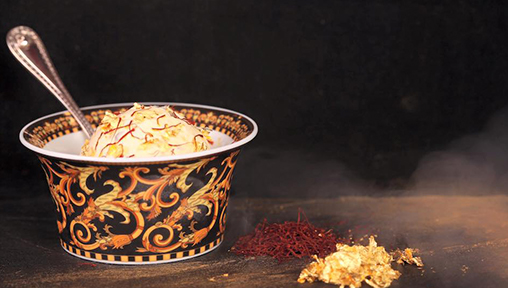 Image Credits: Scoopi Cafe
Well with deserts and safari's everywhere, you're bound to indulge in some ice cream to cool off. But if you really want to take indulging to the next level, we recommend an edible 23-Carat Ice Cream from Scoopi Café.
Damage: AED 3,000 (USD 815)
4. Cruise the Arabian Gulf on a Private Yacht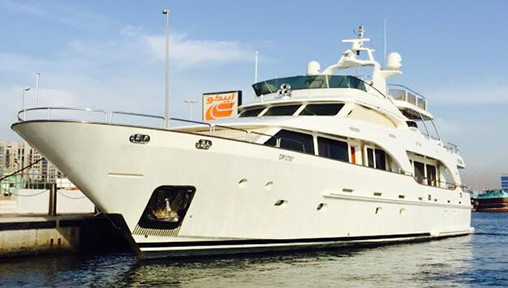 Image Credits: Eden Yachting
Turn your Hollywood dreams into a reality. Charter a yacht and crew and cruise your way out of the Dubai Marina. Sip on cocktails, dine on board and have your friends by your side, there's no better way to spend a luxurious day in Dubai than on the waters.
Damage: available upon request
5. Shop until you Drop at Dubai Mall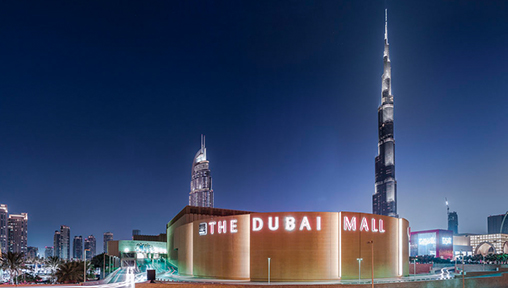 Image Credits: Asdaa Burson-Marstellar
When everything else in this country is luxurious, shopping definitely makes the cut too! Even an entire day of shopping will not be enough at 440,000 square feet Fashion Avenue of The Dubai Mall. With over 1,200 retailers, 150 F&B outlets, a 5-star hotel and countless leisure outlets, you will literally drop by the end of your shopping spree.
Damage: Limitless
6. Pamper Yourself at the World's Most Luxurious Spa
Image Credits: Jumeirah Group
Spa's in general are a luxurious experience. But when you're in Dubai, the word luxury is taken to a whole new level. Titled as the world's most luxurious spa experience, the Talise Ottoman Spa at the Jumeirah Zabeel Saray offers a facial which includes a 24-carat mask made with gold chains.
The treatment starts with a skin-softening rose bath followed by the revitalizing Arabian Gold Hammam within your luxurious spa suite. Followed with a Diamond Rose body ritual and the revolutionary gold mask facial that will leave you amazed with results. The package also includes a complimentary stay of one night or two, an elite caviar lunch with bubbly at the spa, and a unique premium Margy's Monte Carlo gift upon departure.
Damage: AED 25,000 (USD 6,800)
7. Attend the Dubai World Cup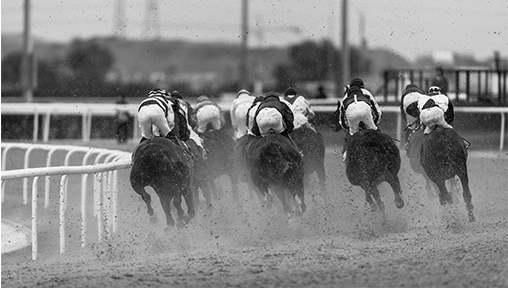 Image Credits: Dubai Racing Club / Neville Hopwood
Coined as the world's richest horse race, The Dubai World Cup held at the Meydan Racecourse is held annually on the last Saturday of March. The high-profile event brings together the world's top horses, racers and trainers and has purse price of USD 10 Million. Dress to impress at the races as you book a place in a pavilion tent to mingle with the city's social movers and shakers.
Damage: AED 32,500 (USD 8,800)
8. Go on a Luxury Safari Tour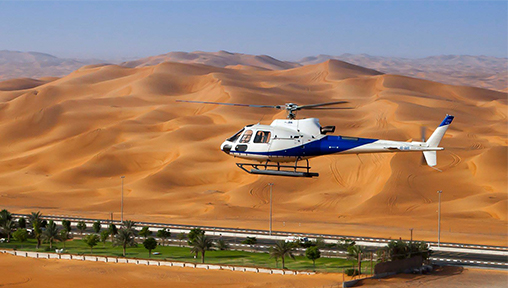 Image Credits: Platinum Heritage Dubai
Nobody goes to Dubai without visiting the desert safaris, but once again the people of Dubai know how to take anything a notch higher with total luxury experience. The guys at Platinum Heritage have put together an amazing package for a Helicopter City & Desert Tour. Your day begins with a helicopter pick up that shows you around the iconic skyscrapers and properties of Dubai City before entering the horizon of the expansive Dubai desert.
Just like a star, you arrive on the helipad of the Al Maha Luxury Resort & Spa for breakfast with a view before luxury Range Rovers take you on a desert safari of the local wildlife in the Dubai Desert Conservation Reserve. Concluded by a drop off at your hotel at the end of your tour.
Damage: AED 14,995 (USD 4,000)