"Adopt the pace of nature, her secret is patience" – Ralph Waldo Emerson
There is something magical about the art of slow travel and the tranquillity of leisurely soaking in every inch of the wonders around you. The journey, truly, is the reward. Especially if it is on-board Asia's most luxurious train rides, taking you through its vibrant countryside and picturesque landscapes, with a generous helping of indulgence.
We've put together a carefully curated list of the most memorable train rides for your next sojourn in Asia.
1. Train Suite Shiki-shima, Japan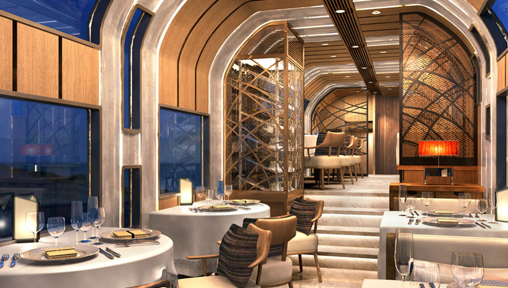 Images Courtesy East Japan Railway Company
Launched in May this year, the Shiki-shima is nothing short of a boutique hotel replete with a five-star lounge with its own piano bar and a fine-dining culinary escapade designed by the Japan's first Michelin-starred chef, Katsuhiro Nakamura. The 10 carriage train houses only 34 guests in its 17 suites, some of which come with a split-level, bath tub and a cozy fireplace. With one to three night itineraries; the guests traverse through mountains and seacoasts across northeast Japan enjoying scenic sights like the Hirosaki Castle and Naruko Hot Springs through its glass-walled panoramic observation cars.
The fares range between USD 3000 and USD 10000 per person. While guests are chosen through a lottery system, the train is already booked out until March 2018. For more information visit www.jreast.co.jp/shiki-shima
2. Eastern & Oriental Express, Singapore to Bangkok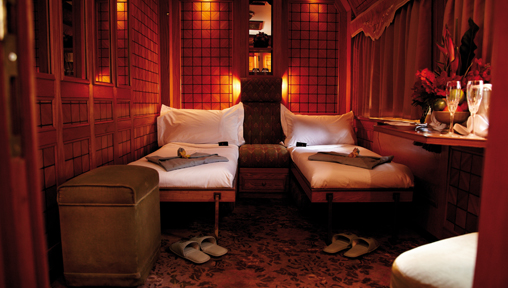 Travelling over 2000 kms across Singapore, Malaysia and Bangkok – the train has several itineraries to choose from and takes you through lush green forests, ancient pagodas and historic UNESCO World Heritage sites. All its fully air-conditioned cabins, adorned with plush interiors, come with an en-suite bathroom. Enjoy getting pampered on-board with a four-course breakfast delivered in bed, and choose from an extravagant array of Eastern and Western specialities served through the day in their two dining cars. You can soak in the exhilarating views of the journey through their open-air teakwood observation car or enjoy a drink with the melodies from the resident pianist in the bar.
Fares start from USD 2800 per person and can be booked through www.belmond.com
3. Maharajas' Express, India
Experience royalty like no other inside India's first seven-star luxury train ride where the splendour of India's regal past has been recreated through magnificent interiors, lavish meal spreads, presidential suites and fabled destinations. The train tours through exquisite sights including the golden sand dunes of Bikaner, the exquisite Taj Mahal in Agra, the temples of the Varanasi and the lake city of Udaipur. Each of its 4 guest carriages, true to style, are named after gemstones and are accompanied by the impeccable hospitality of a personal butler. Step inside the imperial Safari bar for stories from erstwhile noble heirs over a drink or relish an extravagant fine-dining meal in one of its two palatial themed restaurants.
Tours start from USD 3850 per person and can be booked at www.maharajas-express-india.com
4. Kyushu Seven Stars, Japan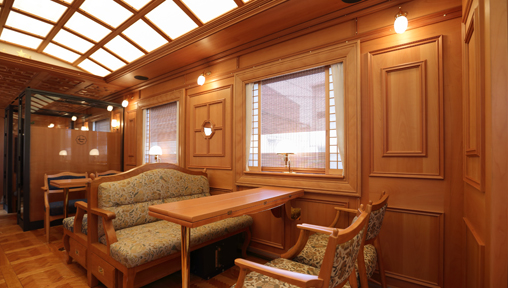 Japan's first luxury sleep train, the Seven Stars cruises through the southwest island of Kyushu and offers stunning views of volcanic mountains, bamboo cloaked hill tops and terraced rice fields while taking a pit stop at opulent hot spring resorts and ornamental gardens. The train reflects the best of Japanese craftsmanship with windows covered in Shoji paper screens and doors etched with intricate handcrafted carvings. A live music performance with a melodious mix of the violin and the piano makes for a charming evening as you sip on some wine. The delectable Kyushu cuisine, spruced with dainty maple twigs and flowers, makes this ride a completely satisfying experience.
The train offers two itineraries: a two-day option which stays around Fukuoka, or a four-day journey which does a loop of the island with fares starting from $4,200 per person. For more information visit www.cruisetrain-sevenstars.com
5. The Deccan Odyssey, India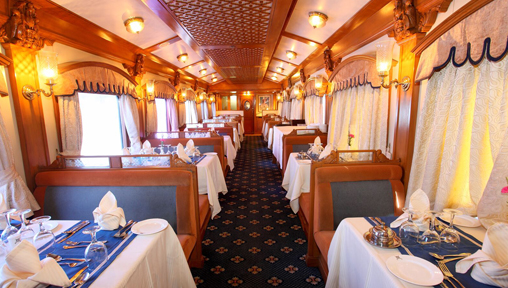 Image courtsey - www.deccan-odyssey-india.com
Winner of the World Travel Awards for "Asia's Leading Luxury Train" for 4 years in a row now, the Deccan Odyssey offers a rendezvous with India's enchanting Western Ghats - home to the vibrant city of Mumbai and the UNESCO World Heritage sites of Ajanta and Ellora Caves; before whisking you away to the pristine beaches and Portuguese cathedrals of Goa. The 7-night journey promises the best of Indian hospitality including an indulgent Ayurvedic massage at its spa carriage, the only one of its kind. Satiate your appetite at the two gourmet restaurants offering cuisines which keep pace with the train's journey and include local specialties of the very state that the train travels through. Apart from the quintessential bar, the train also offers a business centre for travellers looking to combine work with pleasure.
Deluxe cabins start at USD 4500 per person and can be booked through www.deccan-odyssey-india.com
Banner image Courtesy East Japan Railway Company