Founded by Lebanese Master Chef Mohamad Salim, Byblos Grill is an authentic Lebanese restaurant located in Bussorah Street. Chef Mohamad has over 15 years of experience in the food and beverage industry including Burj Al Arab, the only seven star hotel in Dubai.
Being absolutely passionate about his roots and culture, Chef Mohamad does not only import all ingredients used in his dishes directly from Lebanon, he has even shipped a wooden oven just to bake fresh bread daily to ensure customers in Singapore are able to enjoy a traditional house-cooked Lebanese meal.
Various ingredients and marination techniques are used across the menu and all dishes are cooked upon order. Here are our top recommendations:
1. Hummus Lehmeh $15.50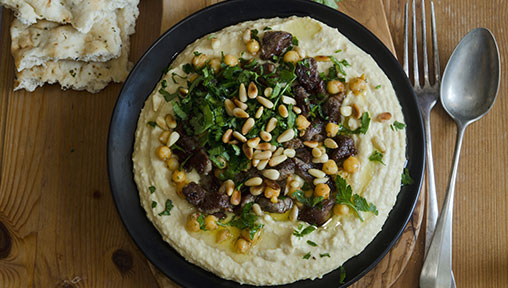 International Hummus day was recently celebrated for the 4th year and it no surprise why everyone loves this dish. Hummus topped with minced lamb, pine nuts and olive oil eaten with fresh pita bread is so wholesome that one can eat it on it's own. Chef Mohamad does not add any preservatives or MSG.
2. Falafel Wrap $13.50
A popular lunch takeaway, crunchy Falafel is wrapped with parsley, onion, tomato, sumak and hummus. This is a meal ideal for vegetarians too.
3. Mezza Platter $27.50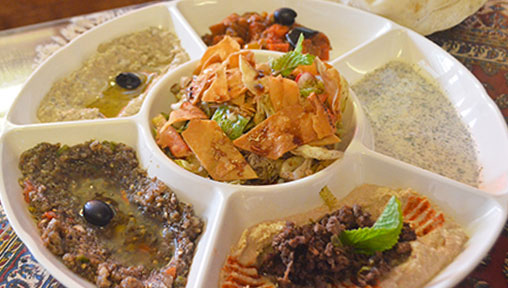 Consisting of Hummus, Babaganoush, Labneh, Moussaka's and Arabic Salad, the Mezza Platter is a great appetiser to share. The Labneh which is Lebanese hung yoghurt with fresh garlic, olive oil and dried mint is made fresh daily before the restaurant opens. We drizzled it onto the rice for an additional burst of flavour to our meal.
4. Mixed Grill Platter $38.90
Wanting to have a taste of everything? This mixed grill platter consists of Lamb Kofta (Marinated Minced Lamb), Lahem Mashwi (Charcoal Grilled Lamb Cubes), Chicken Kofta (Marinated Minced Chicken) and Shish Tawok (Marinated Chicken Breast) that comes with rice and fresh greens. This is ideal to be shared amongst 2 people.
5. Lamb Chops $29.90 (Must-Try)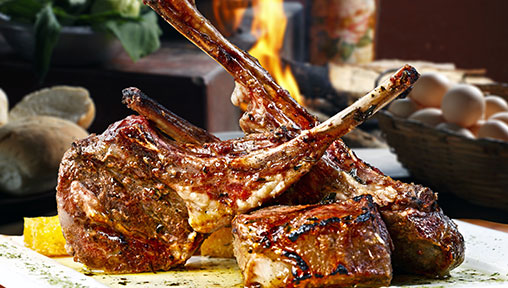 If you're dining alone, this is our personal favourite out of the entire menu. The charcoal grilled lamb chops served with harissa, grilled vegetables and rice are done so perfectly that every bite is simply succulent and juicy. This will definitely make you come back for more!
Byblos Grill is located at 14 Bussorah Street, Singapore 199435, just a 8-minute walk from Nicoll Highway MRT or Bugis MRT. Call +65 6296 8577 for reservations.