We love what our city has to offer. The vast greenery, mayhem on the streets and colonial architecture; but have you for one moment looked at it from the eyes of an artist? Surprising to some, our island serves up as an excellent muse to painters looking for inspiration. From nature to people or mere water droplets, whatever be the subject of your art, Singapore offers a world of beauty that transfers well onto paper (and canvas!). We spoke to some of Singapore's leading artists to find out what nooks of the island evoked creativity in their minds. Funnily enough, these aren't obscure lanes in unknown parts of the city. They are in our faces, upfront every single day!
Diese Dias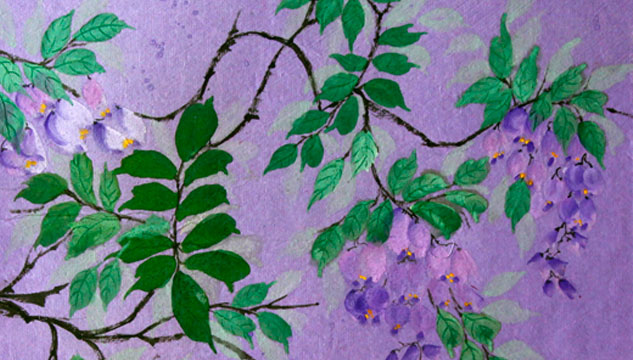 We spoke to Deise Dias, a prominent artist in Singapore whose love for nature goes well beyond the usual – it is her greatest and most powerful muse and brings out the very best in her work. Deise, born and raised in Sao Paulo, Brazil was originally a teacher who always got involved with art in a bid to create new ways to engage with her students. Professional painting became her passion only once her family moved to Singapore in 1996. Wanting to learn something related to the culture she was being exposed to, art and Chinese brush painting piqued her interest and led her to where she is today.
Taking inspiration from the many years of living in Asia and the techniques surrounding Chinese brush painting, Deise's art also brings to light her Brazilian background with vivid and bold colours that her country is known for.
What is your most inspiring location in Singapore?
"The Botanical Gardens! I feel happy and energized every time I take a walk there. The green of the trees and the variety of the orchids always make me feel grateful for so much beauty." Says Deise who can't get enough of the Orchid gardens.
Flowers of the region form a big part of her art range and it's easy to understand now how this artist works with her surroundings. "I normally take pictures of the foliage and flowers to help me when I am painting them. But no matter how we try we can never reproduce the beauty of nature."
Deise can be contacted through her website
Andre Tan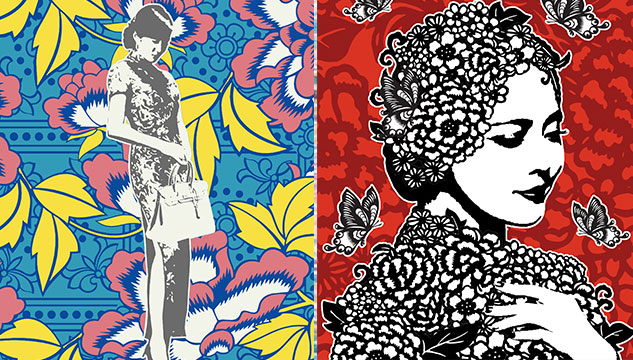 His official description says 'Like a funnel, Andre acts as a filter to channel multiple disparate images from all that he sees around him into singular visions upon canvas'!
Often seen as one to promote sensibilities of Pop Art, Andre Tan is the recipient of the Judge's Choice for the UTGP08-Kenichiro Mogi Prize (2008, Japan), Studentship Scheme (2005) and also the Georgette Chen Arts Scholarship (1999) at the LASALLE-SIA College of the Arts, Singapore. Soon showcasing his second solo show of the year, the artists "Femmes Chinoises" series further explores the aesthetics of 'Asian Beauty' using the sensibilities of Chinese designs and elements. His artworks are collected by private collectors across the world including the UK, Switzerland and Asia.  
What is your most inspiring location in Singapore?
"Orchard road because of its bustling energy and colourful environment." Says Andre. It seems the love for Orchard goes well beyond shopping and catching up with friends!
"It is a place where people of different cultures meet and there are many inspiring things to see in there. I love walking around town to look at window displays and advertising posters too.  Always get inspired and filled with ideas at the end of each trip."
Andre can be contacted through the Utterly Art website and will be showcasing at the Singapore Contemporary from the 19th - 22nd January 2017.
Tomoko Tsuruta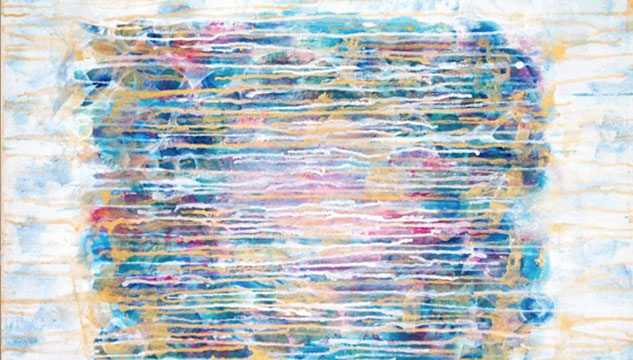 Tomoko's interest in art was cultivated ever since she was a young child, and by the time she reached her 18th birthday, she had lived in three different countries, including Singapore. This exposure to various cultures have shaped her perspective on life, as well as her creativity.
Her training in Chinese ink painting, and its concepts and approaches, have influenced Tomoko's artistic style. As a result, she experiments with various types of papers, as well as the use of traditional mediums such as ink and colour pigments. Tomoko also draws upon her varied life experiences to create works that explore the concept of integration East and West.
In her abstract works, she hopes to find some association with the physical world, preferring to leave room for mystery in her works without clearly defining each meaning.
What is your most inspiring location in Singapore?
Tomoko is from a region called 'Zushi' in Japan and has always lived close to the sea. Even when she moved to Singapore, the sea was a constant in her life. "My inspiration comes from Singapore and its rain!"  says Tomoko
"Singapore has a lot of rainfall which I love! My work always contains an essence of water and the rain is where I get my inspiration. Biomorphic shapes in my pieces resemble bubbles, waves, tides, droplets and puddles." The next time it rains, look closely and you may end up painting too!
Tomoko can be contacted at TOKYO GALLERY by Musée Collection
Lydia Janssen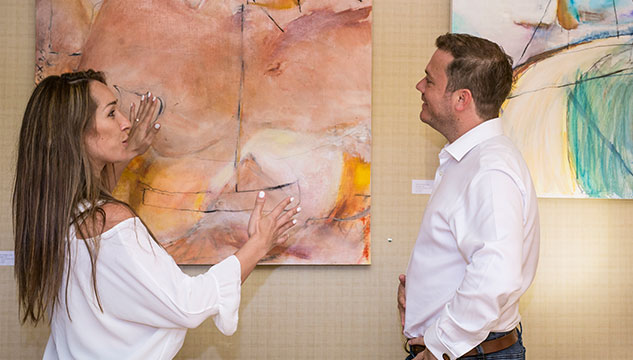 Lydia was born in Michigan and moved to New York City to pursue a career in professional dance! After several injuries she had to move her focus to art and the rest is history! Her work is exhibited across Asia, UK and the USA and she has prominent art awards to her merit. Lydia now lives in Singapore with her husband and three children and continues to live the dream of a modern day artist.
What is your most inspiring location in Singapore?
"There are many places in Singapore that are inspiring to me, the Malay wet markets, the galleries in Gillman Barracks, east coast beach serenity, Haij lane and blu jazz café after dark, to name a few. But what I find most exciting as an artist, is the hunger of the art scene here. Hailing from New York City where the work was outstanding but ego driven, where the scene was an old established one and therefore somewhat complacent in its attitude. Here in Singapore, there's a young fervour and I love the idea of being part ofsomething new and in an environment welcome to ideas and movements."
Lydia can be contacted through her website and will be showcasing at the Singapore Contemporary from the 19th - 22nd January 2017.
Aaron Gan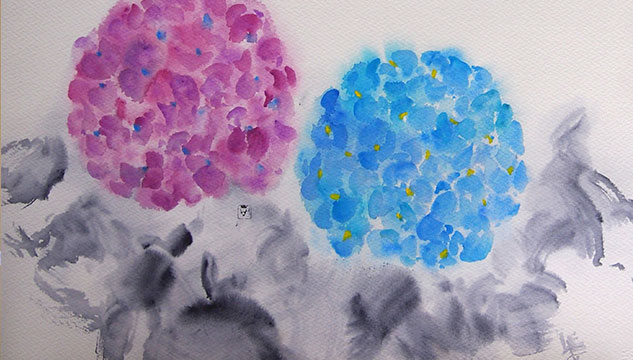 Aaron Gan is one of Singapore's most exciting watercolour artists. He has carved a niche for himself within the art community after a fully sold-out debut show in 2013! His work is now being commissioned by both private and public sector organisations as well as being showcased across international platforms. In 2015, his work Starry Starry Night became the first ever watercolour work to clinch the UOB Painting of the Year, Gold Award, Established Artist Category, Singapore. Aaron lives in Singapore and a cup of kopitiam with kaya toast gets this artist ready for an inspiring day, every day!
What is your most inspiring location in Singapore?
"I've been living in Sengkang for over 10 years and I believe in finding inspiration at my doorstep. Every morning I walk my daughter to school and we spend one morning hunting for snails, another looking at the flowers and plants lining the void deck, another feeding the pigeons, another digging up half-buried marbles and so on. From all these adventures, I would draw inspirations for my paintings."
It may even be birds hopping around trees; Aaron thinks its important for us to slow down and appreciate what we already have! Artist or not, that is some serious food for thought.
Aaron can be contacted through his website and will be showcasing at the Singapore Contemporary from the 19th - 22nd January 2017.