Tucked away in a charming 19th century shop house, The Disgruntled Brasserie offers value for money, yet manages to be innovative and playful. The newly appointed Chef De Cuisine, Desmond Goh previously of Kitchen Language, revamped the entire menu inspired by traditional and familiar ingredients from which he aims to create accessible, comfortable and modern food.
The Disgruntled Brassiere is perfect for that intimate date with your significant other where we recommended you order the small plates for yourself or share one or two large plates. However, the dishes are really designed for larger parties so it's advisable to rally the troops and show up as a larger party. In the simple act of sharing, the Disgruntled Brassiere encourages diners to do precisely that by offering a mixture of small and larger plates coupled with a great selection of wines, that are also reasonably priced starting from $9.50.
Overall, there are some dishes that we enjoyed more so than the others and here are some that were the clear winners for us.
Foie Gras with Peanut Butter Miso ($18)
Blackcurrant gel, Poached grapes, Brioche
The peanut butter, which by the way is not the Skippy peanut butter but a house made one, helped to elevate the dish, to which an interesting pairing arrives that works well with the Foie Gras and the other components. This has inspired us on adding Foie Gras in our PB & J sandwiches from now on.
Gruyere Cheese Soufflé ($16)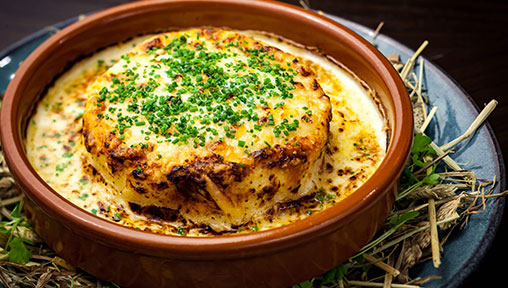 Caramelized onions, Chardonnay, Fondue
As the waiter walked towards us, I could smell the aromas of caramelised cheese encapsulating the dining room. Unsurprisingly, this was my favorite dish in the menu and we had this misconception that it would be very heavy to consume, but it was not. It was pleasantly light and yet still very flavourful. Even though the dish is under small plates, we recommend sharing it with the rest of your party.
Carbonara Taglierini ($24)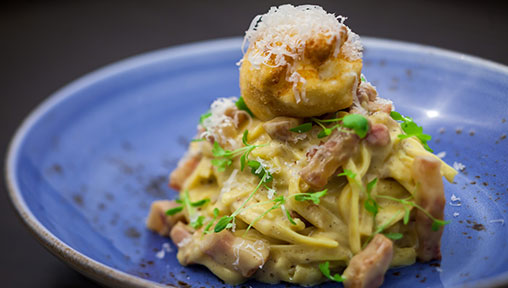 Streaky back bacon, Farmer's smoked Bacon, Kurobata Ham, Parmigiano Reggiano Crusted Egg
With this rendition of Carbonara, Chef Desmond has brought the humble dish to the 21th century with his creative and mischievous take on the humble pasta. The crispy Parmigiano Reggiano egg with its molten yolk was decadently good and the three types bacon present which you cannot go wrong with, made this dish one of the standout ones. However, again you will struggle eating this by yourself and we highly recommend you share it in order to truly enjoy the pasta.
Pan-Roasted Barramundi ($24)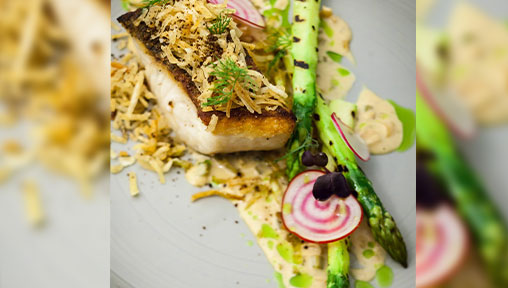 Warm tartare sauce, Grilled asparagus, cured Seaweed potato hash
Chef Desmond's inspiration came from Fish and Chips from which he created this texturally complex dish which has some great flavors. This is where Chef's skills shine the most and he is able to bring some modernity to Fish and Chips yet the flavours remained familiar and excellent. The hash was divine and we were scraping the plate to get the last bits mixed with the Tartare sauce.
Bailey's Crème Caramel ($18)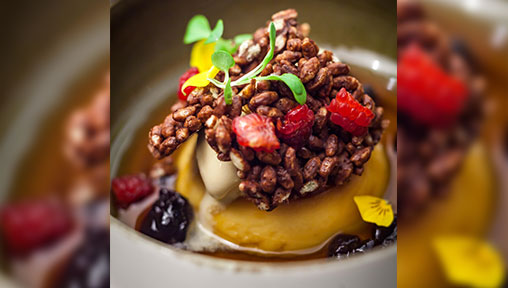 Remy Martin Cherry Compote, Cocoa rice crisp, Kahlua Ice cream
This dish can be considered pre-drinking with the amount of booze in here. Easily one of my favorite desserts. The rest of the desserts were also fantastic and it's a testament to Chef Desmond's versatility in the kitchen and understanding of desserts. The flavours are all familiar, yet Chef has managed to put his own spin on it.
The Disgruntled Brasserie is located at 28 Ann Siang Road, Singapore 069708. We highly recommend checking out their boozy weekend brunch that is a steal!