Looking for ways to stick to healthy eating even when surrounded by temptation on holidays? This easy meal-by-meal cheat sheet will point you in all the right directions.  
Breakfast and Brunch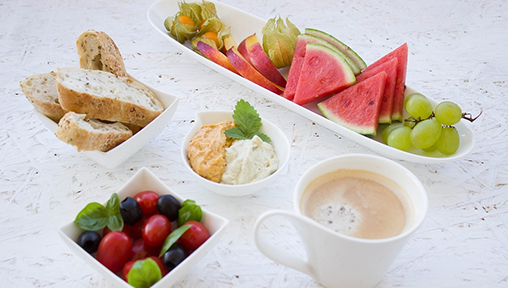 With mountains of buttery croissants, towers of crispy bacon, and piles of fluffy pancakes, it's a challenge not to blow up your whole day before the clocks strikes 11.  Most hotels and resorts offer a salad spread at breakfast. If you aren't used to eating vegetables in the morning, now is the perfect time to try. Opt for a hefty serving of leafy greens and lean protein to help fill your tummy upfront, leaving less room and less temptation for the sugar- and fat-laden goodies. A hearty breakfast will help the body recover from damage done the day before, while helping you stay satisfied into the day ahead. Poached eggs over sautéed spinach and mushrooms, with a side of piping hot oatmeal, will do the trick.
Lunch and Poolside Snack
Luckily midday meals tend to be lighter, as our tummies may still be content from a larger than usual breakfast. Skip the pizza and burger and fries. Think fresh and crisp to keep you from feeling weighed down. Complex carbohydrates paired with vegetables will keep your blood sugar in check through the afternoon. A crunchy salad or protein- and fibre-packed dips like hummus and baba ganoush are great options.
Happy Hour and Sundowner Cocktails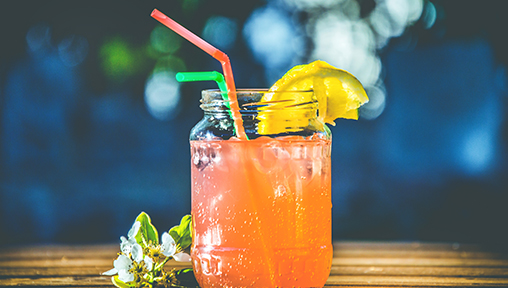 If you've made it to the evening without a drink or two, kudos to you! But before you dive into the good deals, make sure to get a bit of food in your stomach to help slow down the digestion of alcohol.  Genetics and gender can affect your ability to break down alcohol, so take it easy so you don't need a time out tomorrow (in other words, avoid the hangover).  A few bites of cheese before wine can help prevent an insulin spike while protecting the teeth from staining. Munching on a handful of pretzels or crackers will deliver some simple carbohydrates to counter the alcohol. Steer clear of the salted nuts, as you'll feel even thirstier and drink even more. Bear in mind that alcohol is a diuretic, which means you'll need to run to the restroom more often. Stay hydrated by keeping a glass of water nearby to sip throughout.
Dinner and Late Night Supper
A nice bottle of wine, an 8-course culinary journey, after-dinner cordials and a very, very full tummy. Sound familiar? Going to sleep on such a full stomach can lead to health issues, such as gastroesophageal reflux disease (GERD), disrupted sleep, and hormone dysregulation. Select your my-trip-won't-be-complete-without-it dish from the menu and fill in the rest with sensible sides.  Eyeing the ribeye? Pair it with mashed sweet potatoes and grilled asparagus instead of cheesy macaroni and creamed spinach.