Run your mind through the most successful advertising campaigns you remember or perhaps one of your favourite movies, we are guaranteed that in one way or another, there is some sort of sexual connotation attached to it. The sad part is that even in the 21st century where women empowerment and equal rights are in the open more than ever, sex is still considered to be a taboo topic, most especially for the ladies. 
Sexual health and wellness is extremely important in maintaining healthy relationships. On a mission to overcome the stigma and to help you become a sexually informed and knowledgeable person is Singapore's latest sexual wellbeing connoisseur, Erin Chen. Read on as she tells us all about her venture into Lila Sutra and how sex need not be a taboo topic.
­­­­­Vanilla Luxury: After 9 years of being in the corporate world, what made you leave and start Lila Sutra?
Erin Chen: I believe that we all have something that lights us up. For me, I've always been passionate about the area of sexuality. Even though I studied business, Psychology of Human Sexuality was by far my favourite course in university. I've always been that friend that my girlfriends would go to and talk about sex with!
Over the years, that feeling of wanting to do something that is meaningful in this area kept pulling at me. One day, I came across Blue Bella* in the UK – a retail business founded by Emily Bendell who graduated from Oxford. And I thought, YES! Here was someone talking honestly about sex and it got me dreaming about what is possible for the Asian market. 
A friend then suggested that I do a toy party for her and the girls. And that's how I did my first unofficial Lila Social – it was a blast and I knew that I had to jump in and pursue this passion, or else I'd regret it.
*Blue Bella has since split into two businesses. The sex and pleasure retail business is now Soft Paris UK.
Vanilla Luxury: What is Lila Sutra all about?
Erin Chen: Sex for most people is a taboo topic. Because of that, most people lack conversation and life skills in this important area of life. Not only that, there is a lack of options for people who want to explore and expand their experience in sexuality – turns out we don't have many options locally or even regionally.
How do we change something for the better if we can't have a normal conversation about it? Where do we go with questions about orgasms, sex and pleasure? What if you don't feel comfortable walking into a sex shop?
So Lila Sutra was created to provide a space to fill that gap. By combining sexual wellbeing knowledge, an experience of community and a well-curated collection of products. Lila Sutra is the space that inspires and reminds women and couples that within themselves, they have what they need to own and nourish their sexual wellbeing and happiness.
In Sanskrit, 'Lila' means 'love and play'. Everyone deserves the freedom to have love and play in their lives. For Lila Sutra, that means everyone – so part of the profits for each purchase goes towards social causes related to educating more people about sexual health and to the victims of sex trafficking.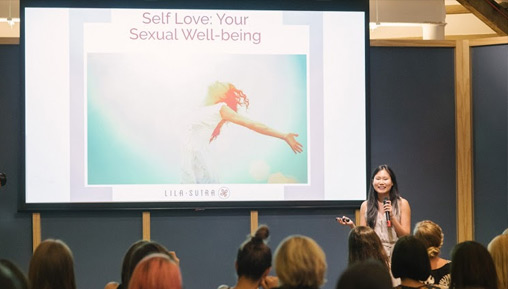 Vanilla Luxury: How did you come up with it?
Erin Chen: The idea of having private socials for women at their home, to shop for products like lubricants and toys, has been popular in the UK and the US for a while. I thought it was the perfect concept to create the right space for women – something classy, fun and intimate.
It took a while to fine-tune the experience for women across different cultures – from the words I would use to describe what I do, to the products we carry, to the pace and content of the Lila Socials themselves. Now it's at a good place where anyone – shy and conservative, open and curious – will have a great time.
Going forward, I am expanding beyond Lila Socials to create a similar experience online.
Vanilla Luxury: It must take a lot of guts to address a topic that is still considered 'taboo' in Asia, how has your journey been thus far?
Erin Chen: Personally, the journey has been interesting (for the ladies who have been to Lila Socials before, that was an inside joke!). Imagine my Taiwanese parents' reactions when I told them about my dream! For months, they tried to talk me out of it. Until one day, it finally clicked for my mom and she understood what Lila Sutra was about.
Then my aunts and her all started saying, 'I wish I had this when I was younger. I wish I had that now!' Now, they give me advice on the products I carry. My father, an entrepreneur himself, is a mentor.
Seeing their reactions and seeing the 'a-ha' moments and fun that women have from a Lila Social is what keeps this journey going for me!
Vanilla Luxury: I love that Lila Sutra is more than just about sex, but what are the taboos you've faced while creating Lila Sutra
Erin Chen: Many people ask me that – 'Isn't it taboo and how do other people react?' For the most part, people have been great – really curious and genuinely interested. I think people are relieved that they can talk about sex without feeling awkward, knowing that they won't be judged.
I do sometimes face taboo in business related interactions. Mentors have warned that this will be a difficult industry and I will be an outsider. Facebook and other platform policies make it tricky to promote healthy dialogue on sexuality. There is a collective societal fear of 'what others think', and yet every human being has similar concerns and questions. There is a big gap between what women are looking for versus what the business eco system is comfortable catering. Traditionally, this gap was left to unrealistic sources like pornography, romance movies and sensational magazines… and so the vicious cycle of taboo continues!
There are also a few men who can't help but jokingly ask whether we demo the products - alluding to fantasies that we gather women and have a big 'pillow fight'. They often pass remarks stating that I sound like a feminist. Initially, I took it quite personally and it was frustrating. I've since realized that it's just how some express themselves when faced with an uncomfortable topic. Usually, after a few minutes of joking, these men will start to open up about their relationships. Men have their own set of societal pressures and insecurities to 'perform' and 'be a man.'
That being said, it's not hopeless! It starts with being authentic about sex and recognizing the importance of wellbeing in this area.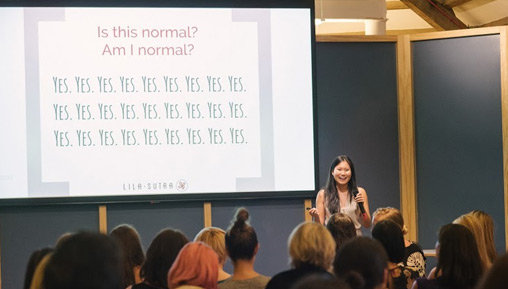 Vanilla Luxury: What are the common questions asked by women in Singapore?
Erin Chen: Some of the most common questions asked include the following:
'How do I orgasm during (penetrative) sex?'
'How do I get into the mood more?'
'Tell me about anal sex!'
'How can I give better blow jobs?'
'Does the g-spot exist?'
'How do I tell him/her what I want?'
'Is it normal that I have a higher sex drive than my partner?'
Vanilla Luxury: What has been your most interesting encounter with a client?
Erin Chen: I couldn't decide between 3!
1. The lady who was adamant about getting only g-spot toys because penetration is the fastest way for her to come (she is one of the rare unicorns)
2. The lady who was super quiet during the Lila Social. But when I saw her the next day, she was so excited and happy. From listening to the other women, she realized that she was normal and that lots of women need external stimulation to reach orgasm too (before that, she had never had a conversation about sex with other women). Just that tidbit of knowledge gave her so much freedom.
3. The lady in her 60s who had just started exploring BDSM with her husband. That was an inspiring reminder our sexuality is a lifelong adventure. There are no should and should nots – just love and play.
Vanilla Luxury: If you had one chance to stereotype, in one line, what do you think about the Singaporean; Local vs Expat?
Erin Chen: Singaporeans think they're more conservative and expats think they're more liberal and open. When it comes to sex, neither are right!
There is a sexual wellbeing question that I ask at the beginning of every Lila Social and from all the women who have attended, only 2 have ever answered it correctly! 1 was an expat and the other, a Singaporean ;)
Erin Chen is the founder and Chief Maven of Lila Sutra. She started Lila Sutra when she saw a need to support women and couples to gain the sexual confidence and happiness they desire. Erin is also pursuing a Master of Sexual Health at the University of Sydney Medical School. Born in Taiwan and raised in Canada, she is a total foodie and can be overly apologetic at times. Her dream is for her future children to grow up in a world where sex, intimacy, pleasure and orgasms are no longer a mystery. 
Follow Lila Sutra's adventures on Facebook and Instagram