Spas and holidays are no doubt some of the things we enjoy, but what about a combination of both? We're giving you reason to get on a jet plane and fly off to your next destination to receive a spa treatment like no other.
While a deep cleansing facial or a normal Thai massage are the usual go-to spa treatments for most people, the spas we've rounded up offer a unique experience for their clientele.
From soaking in a tub of alcohol, applying 24-carat gold on your face to having pythons slither all over your - spas across the continent are going to great lengths to give you a distinctive experience.
Gold Facial, Dubai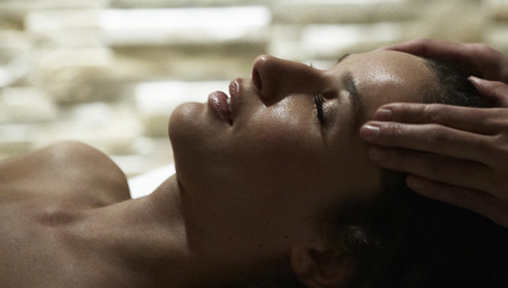 When we think of gold we think jewellery, but gold has many more uses than just for decorative purposes. The Raffles Hotel in Dubai offers a luxurious facial treatment that involves a pure 24 carat gold ultrasonic mist sprayed on your face towards the end of the treatment. The therapy promises to deliver glowing and radiant skin. This deluxe treatment comes at the hefty price of 1899 United Arab Emirate Dirhams.
Where to get it: Raffles Hotel, Dubai | 13th Street, Sheikh Rashid Road, Wafi city, Dubai, United Arab Emirates
Wine and Coffee Bath, Japan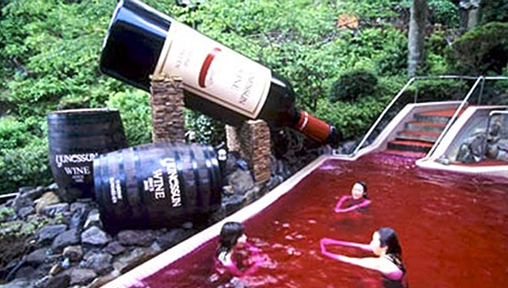 With a 3.6 meter tall bottle of wine, wine aficionados will definitely enjoy this one! The Yunessun Spa and Resort in Japan offers visitors an unconventional experience of bathing in wine. The Queen of Egypt, Cleopatra has apparently engaged in these wine baths frequently because of the rejuvenating benefits it has for the body. If wine is not your thing, then they offer coffee baths too! You may enjoy this exotic bath for a one-time entry fee of 2,900 Japanese Yen. 
Where to get it: The Yunessun Spa and Resort | Japan, 250-0407 Kanagawa Prefecture, Ashigarashimo District, Hakone, Ninotaira
Snake Massage, Philippines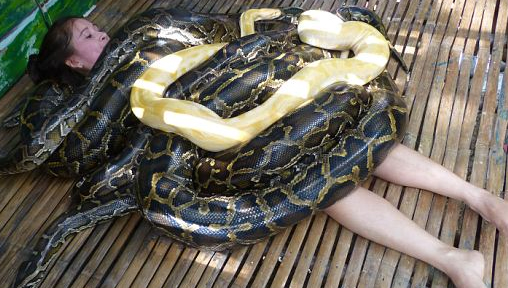 We sure hope you do not have a phobia for snakes, because this one might scare you. The Cebu City Zoo in the Philippines wanted to stand out from the rest of the zoo's in the world and provide a more interactive experience for their guests. Except it involves having four enormous Burmese pythons slithering all over brave participants. Snake massages are said to cure migraines as well!
Where to get it: Cebu City Zoo | Capitol Hills, Cebu City, 6000 Cebu, Philippines
Champagne and Truffle Spa Treatment, Maldives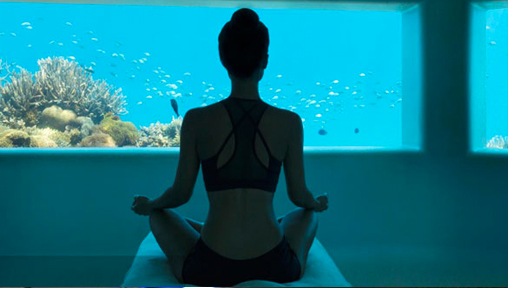 Champagne and truffles - no we aren't talking about a party, but this could be some serious celebration for your skin. With extravagant ingredients such as champagne, silk, diamonds, gold and black truffles, the highly unique ingredients are combined with techniques to reveal fresher skin with reduced puffiness. Oh, and did we mention that this luxurious treatment happens in an even more extravagant location? That is right - all this happens underwater only at Per Aquum Huvafen Fushi. Available at the price of USD270. 
Where to get it: Per Aquum Huvafen Fushi | HUVAFEN FUSHI, North Malé Atoll
Fire Massage, Thailand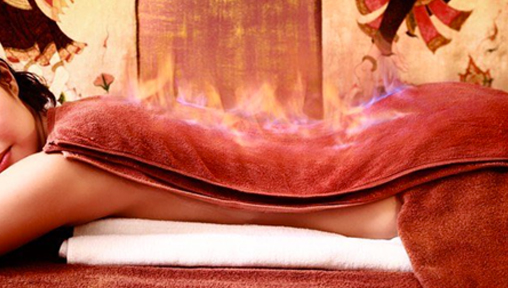 Do not try this at home! We've heard about hot oils being used in massages but this time, along with the oil, they are putting you on fire. This unique massage has been known to help eliminate wrinkles, aid digestion issues, help patients with insomnia and more. This massage can be done in a small village in Chiang Mai, called Ban Rai hong Khing where you are invited to learn more about the local culture. 
Where to get it: Ban Rai Kong Khing, Chiang Mai | Hang Dong District, Chiang Mai, Thailand