Whose Line is it Anyway was brought to life on BBC Radio, before making the leap to British TV screens in 1988. For the next 10 years, panels of comedians were expected to sing, dance, and improvise their way through a range of comic situations, based on audience suggestions. Nowadays, the program exists in the ethereal world of endless star TV repeats, and in the form of the American TV version it spawned.
Vanilla Luxury talks to Ian Coppinger, one of the comedians who will be performing at the show in Singapore. We are also giving away 2 pairs of tickets worth $78 each to the show!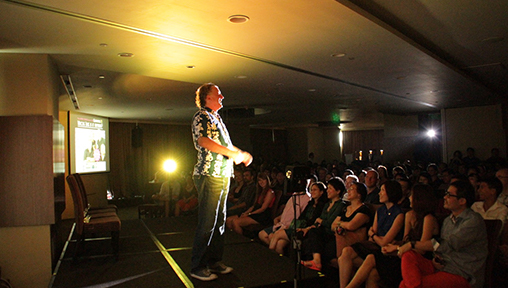 Vanilla Luxury: What were your first impressions of Singapore when you first came?
Ian: It's very warm for an irish man; I almost melted. I love singapore; what a great place! It's clean, safe and seems to be a perfect melting pot; probably got something to do with the heat. My favourite thing was the food halls. I go there nearly every day I'm in singapore. I just love the buzz. For me, the food halls really embody the spirit of Singapore. Oh, and I have to mention the Singapore Sling; I had never had one until I got to Singapore and have had one (maybe more) every time I have returned!
Vanilla Luxury: How is the show here different from the rest of the world?
Ian: We do a lot of shows around the world and when we are in the middle east and far east we tend to end up playing to a lot of UK, Irish and American expats. That is not the case in Singapore. We get so many locals coming to our shows here, alongside people from different ethnic backgrounds. That makes these shows really special for us. The suggestions from the audience are some of the best as sometimes we don't even know what the audience is referring to, which we love. Can't wait to get back!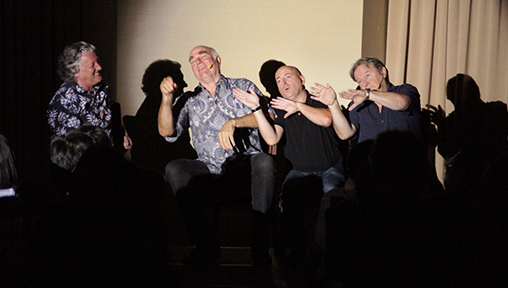 Vanilla Luxury: What's the most difficult thing about improvisation and where do you get your comedy material from?
Ian: Improvisation is all based on the relationship between the performers and the audience. All of our material comes from their suggestions and the whole show is therefore based on what they say so the only time that improvisation becomes hard is if the audience is not saying anything, which I'm very happy to say never really happens.
Vanilla Luxury: Where do you the draw the line on politically incorrect jokes?
Ian: If a joke is funny, it's funny. I would never like to offend anyone, however. I would never just do a joke about someone's race or religion just for the joke of it. That's not politically incorrect, it's just cheap.
Vanilla Luxury: Can you share any interesting and memorable experiences in past shows?
Ian: I have had many strange things happen during shows; a women went into labour, a man had a heart attack, another had a fit. All of these shows had to be delayed while we waited for ambulances. My favourite, however, would be the time that a fire alarm went off at the Edinburgh festival. We all just went outside and did the show out there. The audience brought their drinks, sat on the steps in front of the venue and we did the show without microphones. Great fun! There was another show that I did and due to bad planning, I missed lunch and dinner. So, I ordered a pizza which arrived just before I was due to go on stage. So I actually did the show while eating a pizza.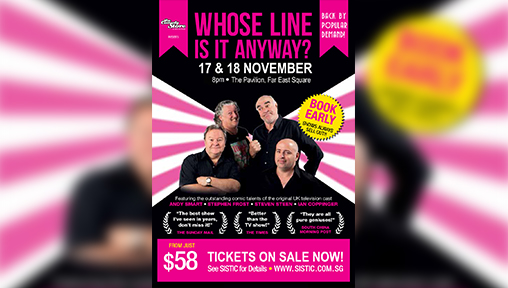 Join cast members of the hit British improv TV comedy show "Whose Line is it Anyway?" for a night of laughs on November 17th & 18th 2017. Ticket prices range from $68 to $78 and are on sale now on SISTIC. The show takes place 8:00pm for 2 nights at The Pavilion, Far East Square.
Stand a chance to win a pair of show tickets to Whose Line is it Anyway! To participate, simply follow the instructions below for a chance to be eligible. Winners will be contacted on 10th November 2017.
Like Vanilla Luxury's Facebook Page 
Like and share this story on Facebook  
Leave us with your details below:
Disclaimer:
    By providing the above details, you are subscribing to Vanilla Luxury's mailing list.
    We value your privacy. Your personal information will be kept confidential and will never be sold to third parties. The above information will only be used for Vanilla Luxury's services.