No trip to Dubai is complete without the exhilarating experience of a desert safari. While there are a large number of different tour packages, take note of the various activities that are available so that you can choose the best package for your interests.
The first thing to note is that you can choose between morning, evening and overnight safaris, each with a different type of experience. Here are the 10 most common activities you can experience on a desert safari in Dubai.
1. Dune Bashing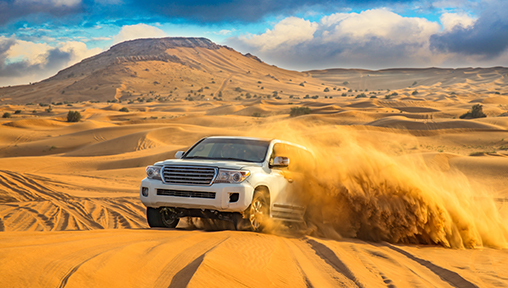 If you're looking for a memorable experience in Dubai, strap yourself into a Land Cruiser as a skilled instructor drives through the dynamic dunes of the desert. These high impact adrenaline drives are akin to a roller coaster ride in the sand; not for the faint hearted and can be incredibly fun. As a precaution, do consider your physical health before embarking on this journey.
2. Quad Biking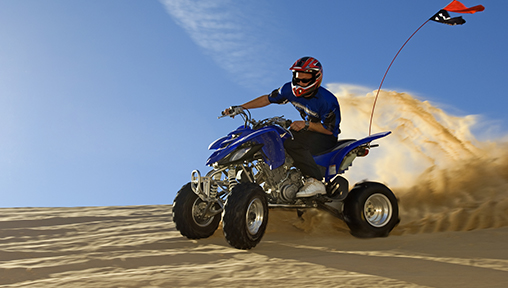 If you're a thrill seeker, quad biking is another 4-wheeled fun experience. Unlike dune bashing where a professionally trained driver brings you on your ride, in quad biking you ride your own ATV. With proper safety measures in place, you get to zip through the desert taking any route you want to.
3. Sandboarding
Also known as sand surfing, this sport is physically demanding due to the heat and balance required to stand on the boards with both your feet strapped. Once you've got the hang of it and experienced one exciting slide down a sand dune, you'll be hooked for sure.
4. Dune Buggy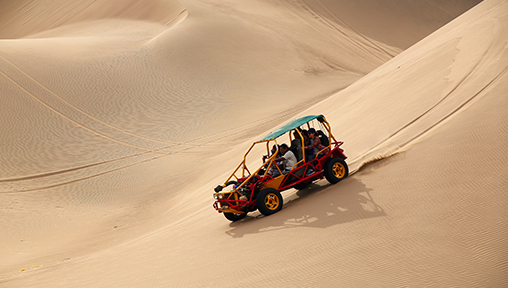 Another vehicle to discover the thrills of the desert is an open dune buggy, which is usually an automatic 4-wheel drive that is open from the sides and the top. Much like the ATV, the dune buggy is self-drive, usually where you follow a guided route. Worry not, a short safety and training session as well as safety equipment is provided by certified tour operators.
5. Camel Ride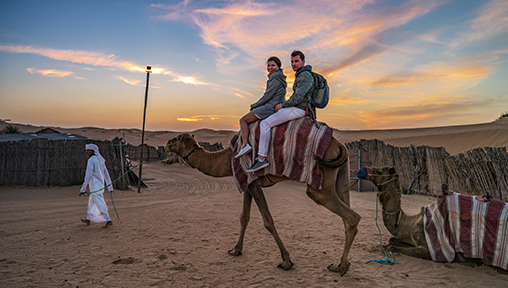 Take a step back into history with this calm activity that is suitable for all ages. There's no better way to trek across the magnificent Arabian Peninsula deserts than on a camel, especially during sunset hours. Not only is the view picturesque, the experience is also simply unforgettable.
6. Wildlife Safari
If you're not someone who is into adventure sports, a safer bet is to go on a wildlife safari. Ever heard of a falconry safari? Well, try this once-in-a-lifetime experience of interacting with falcons, eagles, hawks and owls in Dubai.
7. Barbecue Dinner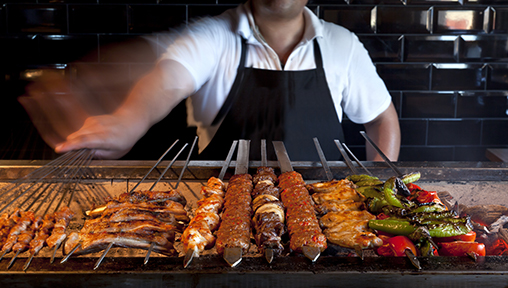 End your adventurous day with a barbecue dinner under an open sky at one of the desert camps. This where you can enjoy gourmet Arabian treats such as kebabs, djaj meshwi (grilled chicken), hummus and more. Usually these camps also have other activities like sheesha, dressing up in the local Arabic attire for a photoshoot, henna painting, enjoying live performances and sitting around a campfire.
8. Live Performances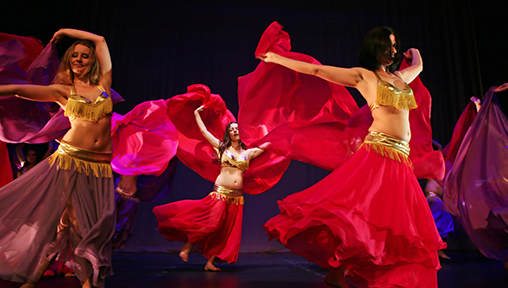 One of the highlight live performances is the traditional belly dancing. The colorful costumes, graceful dance movements and rejoicing music is sure to keep you entertained. Sometimes, there are also other live performances such as the Tanura Dance, Fire Show, Arabic Halla Dance and unique Puppet Plays for children.
9. Overnight Camping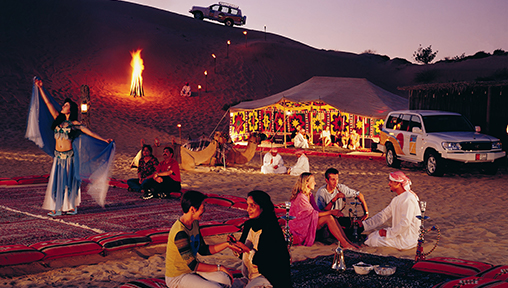 What could be more mesmerising than sleeping under a blanket of stars in a desert where there is no light pollution? If you choose to camp overnight, there are different sizes of campsites that accommodate large to small groups.
If you are on a shoestring budget, choose a shared camp where you can interact with a large number of guests and enjoy a bustling atmosphere. For a more romantic evening, you can also choose a private set-up with a company that offers bespoke services and caters to all your needs.
10. Hot Air Balloon Ride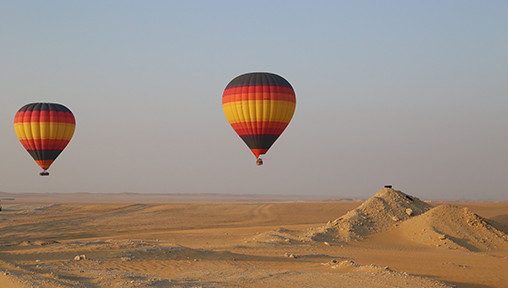 If you're an early riser, don't miss the rare opportunity to catch the desert sunrise from the air on a hot air balloon in Dubai. Glide over the billowing dunes of the Dubai Desert Conservation Reserve with your pilot as you watch falcons fly up to 4,000 feet (1219 meters) above Earth in a trained demonstration and the sun rise over the Hajar Mountains.