Australia's most happening city is known for its gorgeous beaches, the Opera House and the Harbour Bridge. However, there is the popular belief (or dare I say myth) that Sydney loses out to Melbourne when it comes to its cafes and coffee culture.
A lesser known fact is that many of Sydney's suburbs such as Surry Hills, Newtown, and Darlinghurst are littered with cafes that hit just the right mark. These places serve delectable all-day breakfasts, Instgrammable desserts, and Australia's famous Campos coffee.
So, before you write Sydney off, Vanilla Luxury presents to you a list of cafes to try out.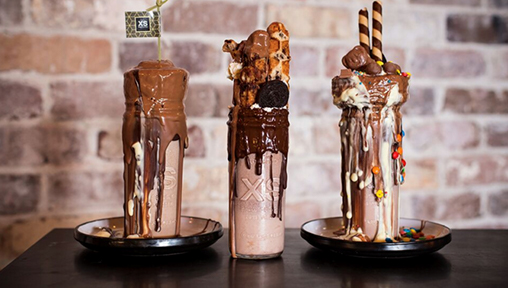 First to bring the Monster shake craze to Sydney, their signature dessert is the Volcano Shake complete with Nutella, coconut, Oreo, ice cream, and topped with warm chocolate soufflé. Other desserts on the menu include Belgian waffles, Rainbow Sandwich, french toast, fondue, crepes, and pancakes. Needless to say XS Espresso is the place to go for all things chocolate and indulgent.
The cafe serves up tasty mains as well for breakfast, lunch and dinner. The corn fritters and Lavish Lobster pasta (featured banner image) are two of our favourites. The icing on the cake? Campos coffee is served all day.
Address: 9a, 1183-1187 The Horsley Drive, Wetherill Park, NSW 2164 and 9A, 2 Windsor Road, North Parramatta, NSW 2152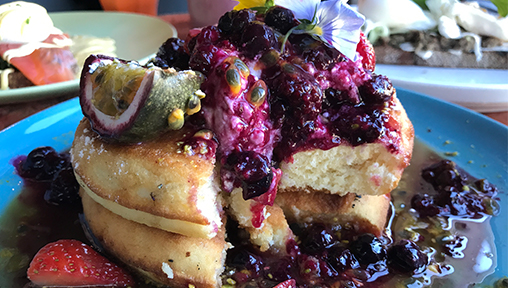 The Rusty Rabbit has an all-day breakfast menu that covers everything from wraps, muesli, eggs benedict, smashed avocado, salmon, corn fritters, rosti, and lamb koftas. There is a dish to cater to all kinds of foodies including kids. For those with a sweet tooth, the pancakes with ricotta, strawberries, berry compote, passion fruit, maple syrup and crushed pistachio are a real treat.
Address: 252 Forbes Street, Darlinghurst and 8a, 27-31 Belmore Street, Burwood
It is highly likely that anyone who has visited Sydney has made their way to The Grounds. Going by its name, The Grounds of Alexandria is a large area of land that makes up five dining options - The Café, The Roastery, The Potting Shed, The Garden, and the Bakery & Patisserie.
Whether for brunch or for a weekend out with the family, The Ground is a perfect spot to bring the kids. A number of farm animals are residents at The Grounds including pigs, goats, and roosters. Patrons are free to interact with the animals and make some new friends.
Walking around The Grounds, you are sure to notice the beautiful gardens and breathtaking floral décor. The Grounds has played host to numerous weddings and celebrations. Another highlight is the weekend markets that feature local makers and bakers that are not be missed.
Address: Building 7A, 2 Huntley Street, Alexandria, NSW 2015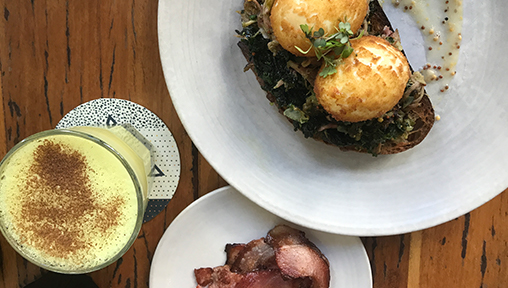 Just a stone's throw away from Central Station, lies this cafe whose central focus is simply good coffee. Founders Jin Ng of Paramount House, Mark Dundon of Seven Seeds and Russell Beard of Reuben Hills, aim to explore various roasting styles and brew methods.
The cafe has been used as a platform to connect local and international roasters, farmers and brewers. Through these relationships, they aim to educate others about the hard work it takes to get good quality coffee into a cup and to preserve the integrity of coffee. The project also serves really good Turmeric Latte and unique dishes such as the Crumbed Eggs on Toast with mustard braised ham hock & kale.
Address: 80 Commonwealth Street, Surry Hills, NSW 2010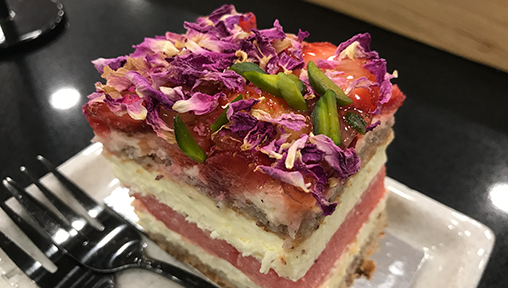 This cafe is probably on every Sydney cafes' go-to list and for good reason. Black Star Pastry came to light for making the most photographed cake in Australia - the Strawberry Watermelon Cake. This delicious creation is not only unique in its combination of flavours but looks pretty as a picture. On weekends, the outlet in Newtown sees a long queue in the morning and the cake has the tendency to get sold out by noon. However, the cafe also has many other cakes and pastries worth making the trip down for such as the yummy Pistachio Lemon Zest Cake.
Owner, Christopher The, is driven by a taste-up philosophy of food design rather than appearances. Multiple of his creations have won accolades and critical claims. If you are in the city, make your way down to Kinokuniya and enjoy reading a book with your cup of coffee and sweet treat.
Address: 277 Australia Street, Newtown and Level 2, 500 George Street and 113 Dunning Avenue, Rosebery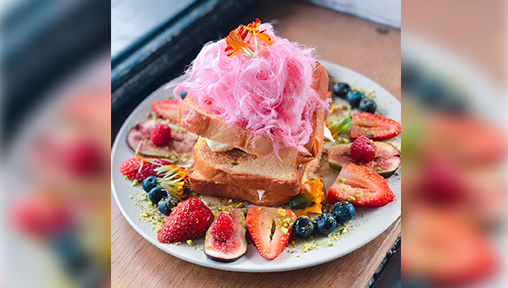 Make a day out of shopping and eating at Rozelle Espresso, which is just across the bridge from Birkenhead Point Outlet Centre. With a kids' play area, friendly staff, and lots of positive vibes, this cafe provides the perfect retreat for breakfast and lunch dining with family and friends.
For pasta lovers, the 72-hour truffle-infused carbonara is a must try. An even fancier dessert is the Brioche Toast served with mixed berries, pistachio crumb, Canadian maple, salted caramel, mascarpone, and decorated with Persian Pashmak (pink fairy floss). To top it all off, Rozelle Espresso also serves the all-star Campos coffee.
Address: 654 Darling Street, Rozelle, NSW 2039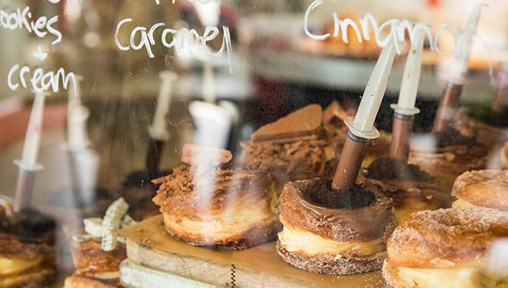 The Tiny Giant has so many dishes that the cafe can proudly rave about. Starting with their original Oreo Cronuts that come with a syringe full of Nutella and ending with their newest addition to the menu, Rainbow Bagels. The Rainbow Bagels have popped up all over Instagram and come in two flavours - Salted Caramel Bananas with Tim Tam crumb or Fresh Berries with pistachio crumb.
For those avoiding sweets, The Tiny Giant offers great savoury dishes including the San Fran Crab Roll, which is a favourite amongst Sydney's food bloggers. Another popular snack is the ultimate toastie, Croque Madame, which has been featured on several food sites.
The Tiny Giant has also jumped on the bandwagon of the latest food trend - coffee in a cone. Campos coffee to be exact.
Address: 110 Audley Street, Petersham, NSW 2049