London has long been considered one of the greatest cities in the world. And for as long, people have been coming here to soak up everything the vibrant city has to offer. And so began the history of London's storied hotel tradition. These days, there are plenty of big chains and small, swanky boutique hotels, but to truly immerse yourself in the luxury and history of London's bygone eras, check into one of these hotels.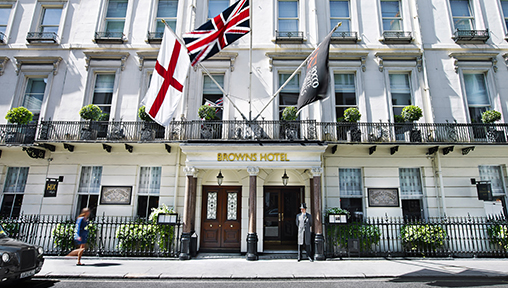 Established in 1837 by the former valet and maid to Lord and Lady Byron, this celebrated Mr and Mrs Smith bolthole is spread across 11 historic Georgian townhouses in Mayfair. Each room here is unique, but all are spacious and elegant, boasting soft colours, antique furnishings, gilt mirrors, all the mod-cons, and luxe bathrooms to boot. All this, bolstered by one of London's best afternoon teas served at the stylish English Tea Room, has made this the hotel of choice for countless well-known personalities. The crème de la crème of London's literati has checked in here, so you may well be staying in a room one occupied by Oscar Wilde, Bram Stoker or Sir Arthur Conan Doyle. Of course if you're a real literature buff, you could also ask for the room where Queen of Crime Agatha Christie dreamt up her 1965 thriller, "At Bertram's Hotel," which was inspired by Brown's; or check into the suite where Rudyard Kipling honeymooned – and penned "The Jungle Book." Don't forget to make a few calls from the very spot where Alexander Graham Bell made London's first phone call.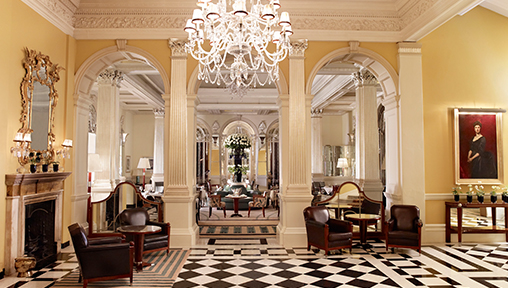 The once-famous but now defunct Mivart's hotel stood on this Mayfair site from 1812. But Claridge's only came into being in 1854, when Mivart's was bought out by the little hotelnext door, owned by a Mr and Mrs Claridge. Since then, Claridge's understated elegance and attentive – yet discreet – service has made it a favourite of royalty and glamorous celebrities. Queen Victoria and Prince Albert stayed here in the early years, and more recently, it was a favourite of the Queen Mother's. During World War Two, the also hotel provided refuge to exiled royals, including the Kings of Greece, Norway, and Yugoslavia. Of course, its blazing popularity meant the hotel also drew the brightest stars of the silver screen, so everyone from Cary Grant and Katherine Hepburn to Bing Crosby and Spencer Tracey has laid their head here. There's no such thing as a bad suite at Claridge's – probably why it's now part of the Mr and Mrs Smith collection - but book a Deluxe Mayfair Suite and you'll kick back in deco-inspired interiors by the royal furniture-maker – complete with period detailing and mirrored powder rooms. Or, go the whole glamorous hog in the Piano Suite, created by designer Diane von Furstenburg and boasting its own grand piano.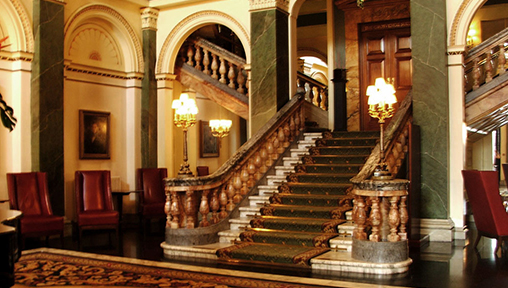 Source: Flickr CC, Ashley Halsey Hemingway
Occupying pride of place on Buckingham Palace Road since 1860, the Grosvenor Hotel is a sumptuous French Renaissance-style, Grade-II listed heritage building. Located a stone's throw from bustling Victoria Station, the hotel was well place – and timed – to take advantage of the golden age of train travel. Rooms here are spacious, comfortable, and designed for the intrepid traveler with Hypnose beds, Bose iPod docking and plenty of complimentary add-ons; while the bar, Reunion, whips up decadent signature cocktails in a swanky space that was once the first-class railway lounge. For a real historical throwback though, hole up in the Cora Pearl Suite. Styled in the lavish French style of the late 1800s – and perched on the second floor, where the most expensive rooms were traditionally located – you'll find glass chandeliers, feather-trimmed lamps, an oversized dressing table, custom floors, and silver-finished French furniture. All overseen by a portrait of Cora herself, naturally.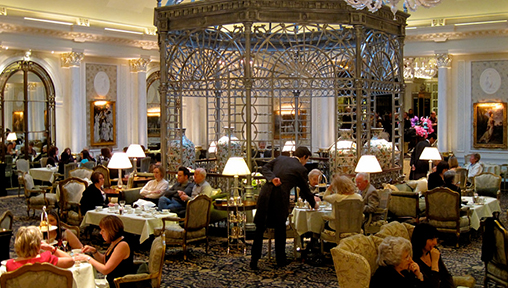 Source: Flickr CC Laurence Horton
Tucked into the north bank of the River Thames, just off the Strand, The Savoy boasts many claims to being Britain's first luxury hotel. At its opening in 1889, The Savoy was decked out with electric lights, lifts, and ensuite bathrooms with running water, putting it way ahead of its time. The hotel also stood at the forefront of 19 th century luxury thanks to sumptuous fine-dining offerings created by world-renowned chef Auguste Escoffier, and its foodie cred has stood the test of time. Winston Churchill often convened his cabinet over lunch here, and this is where the Melba Toast – named for former guest opera singer Nellie Melba – was created. More recently, Gordon Ramsay took over the Savoy Grill, while Simpson's-in- the-Strand still dishes up one of London's roast dinners. Of course, all this fine fare is supplemented by handcrafted cocktails at the legendary American Bar. Considered the city's oldest surviving cocktail bar, it created the famous Savoy Cocktail Book which no self- respecting bartender hasn't committed to heart. All rooms here draw on periods of English history in their design, and feature either elegant Edwardian aesthetics or Art Deco Style. For a real Savoy stay though, book one of the eight Personality Suites which pay tribute to some of the hotel's past residents – think Frank Sinatra, Katherine Hepburn, and Claude Monet – which also come with The Savoy's legendary butler service.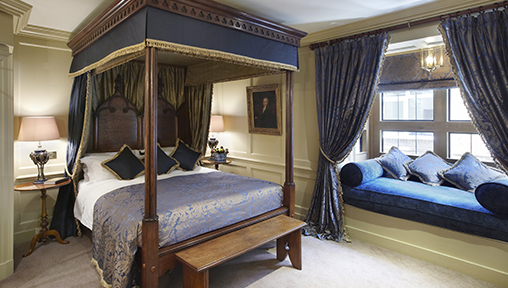 A truly original boutique hotel, Hazlitt's offers quiet, historic respite from slick, saucy Soho. The Mr and Mrs Smith property occupies three gorgeously restored Georgian houses, and – apparently, prolific 19 th -century essayist William Hazlitt died in one of them, drowning in poverty and opium. Interiors draw inspiration from the 19 th century, too. There's plenty of dark wood paneling, and most bedrooms come with freestanding claw-foot bath tubs, original Victorian bathroom fittings, and antique-style beds. Of course if you really want to immerse yourself in history, you should book the Duke of Monmouth Suite, which comes with a sitting room, working fireplace, and private garden. The Junior Suites – named for famous 19 th century personalities – are also a solid choice. The Baron Willoughby has a carved oak bed, while the Jonathan Swift features an unbelievably luxe sofa. Lounge about in the very of-the- era Library – which comes with plenty of books and a resident cat called Sir Godfrey – then take tea (or perhaps something stronger) in the Wardrobe.