MasterChef Australia Season 8 Winner, Elena Duggan, went through 2016 as one of the favourites on the show even with her fellow contestants. Throughout the season, she displayed her creativity by combining her love for art and cooking and wowing the judges with delicious, pretty-looking dishes. Before coming on the TV show, Elena taught creative and performing arts at a high school in Sydney. Her desire to educate and learn has continued even after her journey at MasterChef.  
To learn more, we spoke to her about her current focus on mindful food consumption.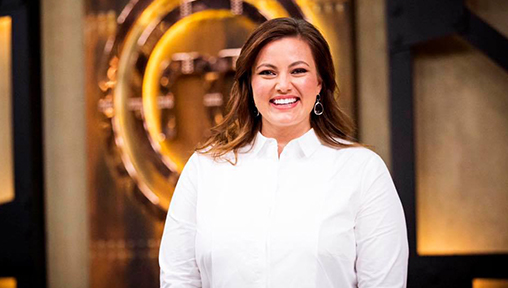 MasterChef Australia Winner, Elena Duggan
Vanilla Luxury: Tell us about your health journey.
Elena Duggan: When I was twelve years old, my grandmother passed away from pancreatic cancer. In 2011, I lost my aunt to pancreatic cancer. In 1999, I was diagnosed with gluten intolerance and then in 2001 with Polycystic Ovarian Syndrome. After much investigation in response to my family members passing before their time and in direct lineage to me, in 2013 I was diagnosed with Insulin Resistance.
All of these potential obstacles and challenges became new ways to be more educated about what I consumed and more creative with what and how I cooked. I was forced to become more mindful of what I put into my body if I wanted to increase my longevity and live symptom-free. I always strived to reduce inflammation, to stabilise blood sugars, to maximise energy output, to optimize brain function, to reduce pain, and increase joyful living.
Vanilla Luxury: How did you start your journey to mindful eating and what have the results been?
Elena Duggan: I started listening to what my body needs, slowing down food preparation and taking joy, time and reflection to truly appreciate what I'm eating. I reflected on why it is good for me, and what my mind, body and spirit are capable of after I've received nourishment. I've learnt that my body functions best and most comfortably with zero gluten, minimal grains, minimal sugar and minimal dairy. I have clear skin, sparkly eyes, loads of energy, better sleep, more focus, and efficient productivity when I'm mindful of my food consumption.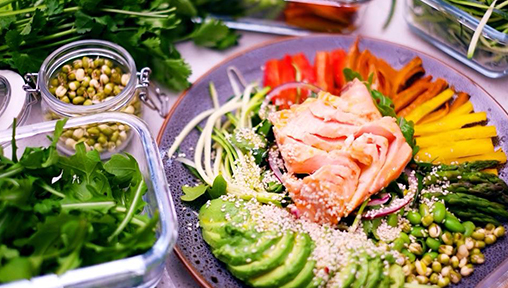 Salmon Salad created by Elena Duggan
Vanilla Luxury: What are some of the challenges you had to face?
Elena Duggan: As a foodie, this can pose challenges. When I cook for myself, I'm in total control and if I have an adverse reaction to something I try to treat it as a learning experience, usually in face of some discomfort or other unpleasant symptoms. When I'm on the road and am being hosted by others and exploring other cuisines and food histories, I'm definitely challenged. I want to know, learn and connect always, and sometimes even with the best of intentions, I'm exposed to an ingredient that wipes me out.
Vanilla Luxury: What advice do you have for people who want to embark on this mindful food consumption journey?
Elena Duggan: In a fast-paced world with thousands of convenient foods available at our fingertips and at ever increasing bargain prices, it can be tempting to just go with that flow, suffering the often-debilitating consequences as a result. But there is another way, a better way. I'm trying to arm and empower others with the knowledge, skills and confidence to better care for themselves; to take back their health and joyful living; to reconnect in the kitchen, with our glorious agriculture, and with one another over nutrient dense, delicious food. This for me is in perfect harmony with ethically sourced, seasonal, local and sustainable food practices.
Restrictions don't have to be negative when you view them as an opportunity to educate yourselves. Get creative and the results are empowering! It's easier to have a more positive mindset. I teach high school students, adults and my online community about how to prepare alternative recipes to all our favourite dishes, to celebrate substitute ingredients, and be inclusive of all diners with intolerances, sensitivities, dietary choices and requirements. It's so much more fun sharing food with others, and we can play, work and live longer and better when it's good, whole and real food.
For more information, recipes, tips and tricks, visit www.elenajoduggan.com.