Thought belly dancing was just about wiggling hips, stunning costumes and the use of props? Think again! Belly dancing requires a lot of practice, the use of core muscles and a good posture, not to mention creative choreography and artistic expressions.
Meet these 5 belly dancers in Singapore who have been training and performing as professionals for years.
1. Mayra Castano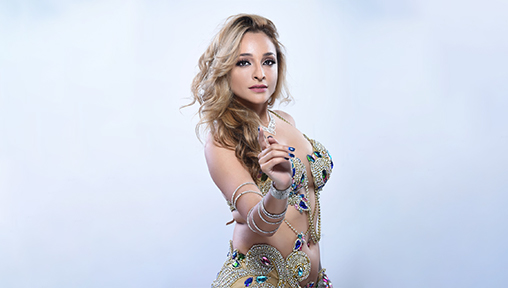 Mayra, originally from Argentina, currently performs in Singapore at Moshi Moshi Bollywood Club. She is a professional dancer, teacher and choreographer having been trained in belly dancing, salsa, bachata and hip hop.
Mayra's passion for dance led her to explore many other dance forms including jazz, ballet, and contemporary. She has also appeared in numerous television advertisements for big brands such as Toyota, Nike and Koovs.
Having done corporate shows and weddings in various countries including Jordan, Egypt and Lebanon, Mayra is available for bookings via 9430 7982.
2. Angelina Tay
Angelina has been belly dancing for almost 16 years now. Starting her study of bellydance in 2002, Angelina has frequently traveled to Egypt where she has learned from some of the world's finest dancers and teachers.
Angelina performs for corporate and private events, as well as regularly at Shabestan Persian Restaurant in Robertson Quay every Friday night. She says, "I love the music, the rhythms, and how belly dance allows me to totally immerse myself in the music. The dance brings me to a state that is larger than life."
In addition to performing, Angelina teaches professional belly dance classes and workshops at the Angelina Tay School of Bellydance. With the accompaniment of highly skilled percussionists, she equips her dance students with a comprehensive understanding of the Arabic rhythms. Contact her for bookings at 9002 6104.
3. Rania Rachel
Rania has been belly dancing since 2013, having trained under Mdm Nur Shiblie. She loves the Arabic music and how graceful and expressive the dance form is.
She now attends workshops conducted by various teachers as well as performs all over the world. She recently performed in Ukraine at the Isadora Cup 2017, an event which she attended as a guest judge. Besides public showcases, Rania also performs at private events such as weddings, corporate shows, birthdays and more.
Apart from performing, Rania also teaches belly dancing at Alhambra Bellydance. Contact her for bookings at 9826 0331.
4. Iva Jo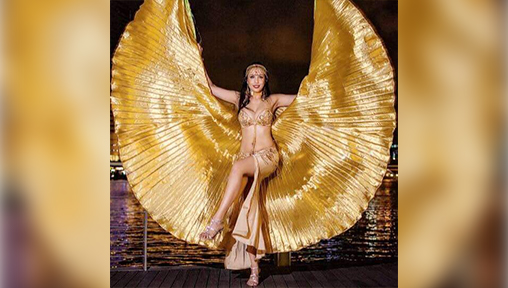 Iva visualised herself as a professional dancer from an early age. She learnt belly dancing from Bellydance Discovery and various other talented teachers. She is also proficient in samba and Bollywood dance.
Iva says, "Personally, I am more inclined towards the oriental appeal that belly dancing embodies and have been its devout follower. My favourite props to dance with are Isis Led Wings and Snakes."
Iva has performed at international events, concerts, charity fund raisers and corporate events. Her prior careers include being a model and a makeup artist. Of late, she has also been an active partner in an enterprise that manages talented performers for corporate events. For bookings, contact Iva at 9786 1369. 
5. Kate Lim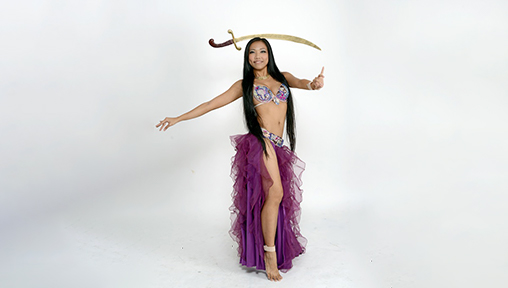 Kate has been training in dance since the age of 5. You name a dance form, she knows it! Her breadth in dance training includes Hawaiian Hula, Chinese folk dance, Malay Zapin, Bharatanatyam, Tahitian Dance, and Cambodian Robam Jun Por. She is also classically trained in Jazz, Russian Ballet and Ballroom.
Having trained in belly dance for 6 years now, her inspirations include Asena, Ozlem Idilsu, Leandro Ferreyra and Oscar Flores, all of whom she has personally coached under. She started learning from Bellydance Discovery and thereafter from her friends at Moshi Moshi Bollywood.
Belly dancing was appealing to Kate because it is strong and feminine and has a long cultural history. "The organic sounds of the drum beats especially from a live band is what excites me the most. Belly dance also has a tradition of improvisation that makes the dance form highly immersive and cathartic", she says.
Kate normally performs for corporate events, weddings, birthdays and festival events. Contact her for bookings at kate@arteaura.com.
Hop on down to Byblos Grill for the month of November to enjoy Belly Dance performances every Saturday.