Friends like family and now business partners, Anjna S Chanana and Niharika Mohanty are two women entrepreneurs who have taken on every challenge that came their way. Their friendship has been the strongest pillar in their life. From two 10-year-old school girls who met each other at boarding school to business partners at Silver Rattle, they have come together to create a platform that helps parents make more informed decisions.
Vanilla Luxury: Can you tell us a little about yourself, your background and what you both do?
Anjna: I come from a family of educators, who for over the past 30 years have been actively involved in educational institutes in Noida, Meerut and Gurgaon. After finishing school at Welham Girls', India, I completed my Masters in History from Delhi University and then went on to institute The Pink Chain Foundation, a NGO, whose raison d'être is to give people the knowledge and correct channels to get involved with social and charitable causes, especially breast cancer projects.
Niharika: I come from a business family. After completing my Master's degree in Business Administration from Mumbai University, I worked across a gamut of HR verticals with Royal Bank of Scotland, Edelweiss Financial and Genpact, India.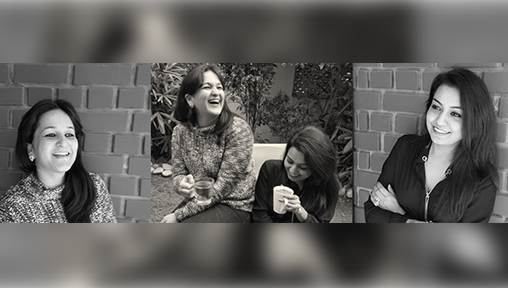 Vanilla Luxury: How did you come up with the idea for Silver Rattle?
Niharika: 2 years ago, we remember sitting at a toddler's birthday party and listening to friends who were new mothers complain about the lack of knowledge and curated information of various facilities, activities and healthcare for themselves and their babies. That's when the initial idea about creating a space of informed and well segregated information struck us.
Anjna: From scribbling their thoughts on a tissue paper to spending over 6 months, meeting over 1,200 parents, healthcare providers and service partners, one thing was clear; we were a brewing parenting generation, obsessed with finding the best. We no longer look for just a playschool or pediatrician; conversations, internet searches and WhatsApp group discussions are constantly about the 'Top 10…', 'The best…', or 'The most reputed….'. On digging deeper, we discovered that there is a lot of information and recommendations out there, but the trouble begins when you don't know what to trust and where to begin the sorting.
Coupled with the potential that existed in a market worth billions of dollars, led us to launch Silver Rattle in 2016. Silver Rattle is a 360 degree communication and curated 'discovery platform' that helps parents make more informed decisions.
Vanilla Luxury: How has your website grown? Any strategy which you would like to share?
Anjna: When we started, our challenges were plenty - to be a trusted partner in a space where there were established players. We didn't want to go mass, we picked niche (just like our name). The number buildup was slow; people needed to connect with what we were saying; they needed to begin to look at us as partners rather than just sponsored spaces. Our content today is all about real stories, unpaid product reviews and information that will help families make their own decisions.
Niharika: Today with over 2.4 million annual users, 2,500 listed service partners, 30 health and wellness experts and users logging in from over 75 cities in India, we know we've been able to hit the right cord.
Silver Rattle will continue to grow. While we started as a content platform, we are now a full-grown social community for mother and childcare. Speak with an expert, discover services, share experiences, connect with a fellow parent or shop the cutest onesie for your newborn. Silver Rattle gives you that one platform from bump, baby and beyond.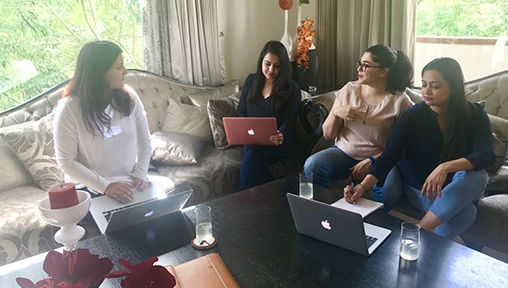 Vanilla Luxury: What is it like having your best friend as your Business partner?
Anjna: We met each other on our first day at boarding school, (Welham Girls, Dehradun) 23 years ago, but our journey as business partners is just a little over 2 years old.
Working together has been a journey of discoveries. Despite being friends for so long, we've learnt much more about each other in the last two years than in the last two decades!
Niharika: We've had our times of arguments and disagreements but we continue to be each other's greatest critic and biggest cheerleaders; passionately growing an idea close to both our hearts. We bring complementary skills to work and our successful partnership allows us to recognize our own weaknesses, and draw on the others' strengths, without being uncomfortable about that vulnerability.
The one rule we strictly follow – We don't mix professional and personal relationships!
Vanilla Luxury: What is your favorite quote or life philosophy?
Niharika & Anjna: Whatever you take on in life, be persistent and pursue it; success will follow.