What are mindful brands? Those that think about the ingredients that go into making something, about the impact on our environment, and about the people making and consuming these products.
We talked to 3 ladies who believe in going all natural, chemical-free, and much more.
1. Zerrin: Shop Sustainable Fashion and Beauty Brands Curated by Susannah Jaffer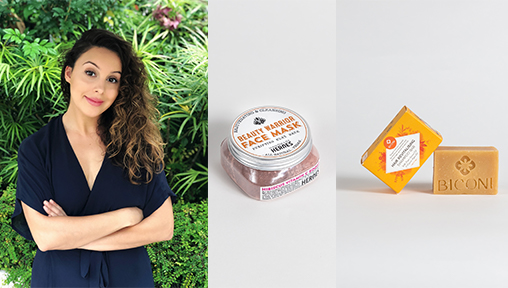 Previously the Editor & Creative Director of Expat Living Singapore, Susannah Jaffer has launched Zerrin, an online store for conscious fashion and beauty brands looking to change the way we shop. Armed with a mission to enable, educate and empower women to #shopmeaningfully, the new online store is the first in Asia to enable women to shop their values — sustainable fabrics, fair trade, hand crafted, organic and natural, and vegan and cruelty free — across its highly curated selection of products spanning fashion, jewellery and skincare.
Vanilla Luxury: What made you decide to launch Zerrin?
Susannah Jaffer: ZERRIN was created out of a desire to build a home for conscious brands promoting a more mindful retail industry, and also to provide better alternatives to typical fast fashion, or chemical laden skincare that we've grown so accustomed to seeing
Vanilla Luxury: How did you go about in selecting the brands to be on Zerrin?
Susannah Jaffer: We've curated our brands based on a combination of their conscious values, as well as their product and design aesthetic. We also ask specific questions or check certifications to make sure there is complete transparency.
Vanilla Luxury: Who is Zerrin for?
Susannah Jaffer: ZERRIN caters to a growing community of women who want to know where their dollar goes, and who value labels that promote quality, craftsmanship and produce responsibly.
2. The Organic Frog: Shop Organic by Family Owned Producers Curated by Laetitia Millet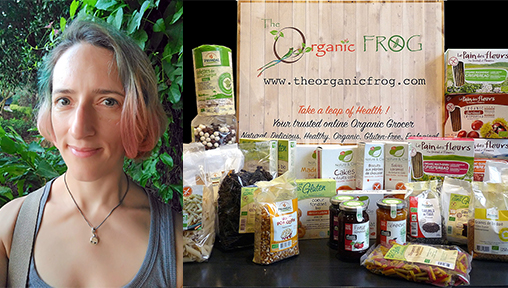 Born in Paris and now in Singapore since 2012, Laetitia Millet has launched The Organic Frog, an online store selling organic food. After graduating with a Master's Degree in Science, she worked in the IT sector for a decade. Having grown up between the city lifestyle and the countryside, Laetitia then moved to Singapore with her husband to fulfil her wish of living and working abroad.
Vanilla Luxury: What made you decide to launch an online store selling organic food and products in Singapore?
Laetitia Millet: I have always lived a natural and relatively healthy lifestyle as I became interested in organic products about 20 years ago. When I moved to Singapore, I felt a bit lost in a market with an unsatisfying choice, little concern for organic food, and the environment in general. I then discovered my gluten intolerance, and found it very difficult to obtain organic gluten-free products, and products that are enjoyable and delicious that could easily be found in Europe.
Finally, in 2015 I decided to take a leap and created The Organic Frog to share both my knowledge of a healthier lifestyle, and to import delicious organic food from France. The website launched in 2016, initially focusing on organic gluten-free products, and since then it has grown to over 100 different carefully selected options.
Vanilla Luxury: Who are the current customers of The Organic Frog?
Laetitia Millet: Currently, most of the customers are either expats looking for authentic organic French food, or people with special diets. I believe that whatever your diet restrictions are, you should always be able to find delicious and organic food. I designed the website with a clear vision to help people who need to check labels all the time when shopping. It is indeed tiring and time consuming to do so in stores, and that is exactly why I created rich filters for allergies and diets, so you can choose in just a click.
Vanilla Luxury: What are the must-buy items at The Organic Frog that are not sold elsewhere?
Laetitia Millet: I carefully select all the products, which are sold on The Organic Frog, and have personally tasted almost all of them! Most of our brands are exclusive in Singapore, especially as I have chosen to work with smaller, family-owned producers. The quality of the products is really different from what we can find in supermarkets' organic sections.
Some of my favorites are Le Pain des Fleurs crispbreads, and the ready-to-heat couscous veggies – delicious, with our gluten-free semolina or fluffy quinoa. Some of our unique products are gluten-free croissants and madeleines. We also have organic seeds with prime sourcing, like golden flaxseeds grown in France, sunflower seeds from Bulgaria, whole sesame and chia seeds.
I am also trying to help people eat better with ready-to-heat or fast-to-prepare meals, such as our tasty organic ratatouille with organic vegetables from the South of France, or the porcini mushrooms risotto that you cannot fail at. All these foods have no MSG, fillers, or additives, so we can care for our health and the environment.
3. Kew Organics : Indulge in Bespoke Organic Facials by Lily Kew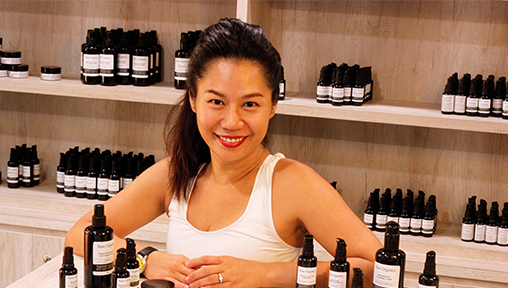 A passionate advocate and fully qualified expert in natural beauty, wellness and organic skincare, Lily Kew founded the first Kew Organics Facial Bar in Everton Park in 2014. The spa focuses on pampering bespoke organic facial and body treatments. Lily took two years to develop Kew Organics as Singapore – and the world's – first 'serious' water-based organic skincare label. These result-driven skincare products use only fresh, vegan, non-gmo, certified organic and natural ingredients from Canada and Japan.
Vanilla Luxury: What made you decide to start your own organic skincare label and spa in Singapore?
Lily Kew: I love to use organic skincare products and totally embrace the theory that skin absorbs whatever we apply on it so chemical-free, toxin-free skincare products are important to me and my customers. However, I was frustrated with the fact that all the organic skincare in the market are oil-based. This does not work well for us because of our humid and hot weather. Also, they are very gentle and mild which are not able to treat skin problems effectively, and are more suitable for maintenance only.
So, I decided to formulate my own water-based organic skincare line which effectively treats skin problems and can be used as cabin products for salon treatments. I also noticed that no one else was combining organic, natural skincare products with medi-aesthetics technology. Hence, all my salon treatments are a combination of organic skincare with such machines because we advocate makeup free skin and natural beauty.
Vanilla Luxury: Who are the current customers of Kew Organics?
Lily Kew: We have a wide demographics ranging from locals, expats who are Caucasians, Asian and of European heritage. Both females and males use our products and patronise our facial bars.
Vanilla Luxury: Which treatments do you personally swear by?
Lily Kew: Red Carpet Organic Facial, Sugar K Organic Peel, RF Lifting Facial; especially the facial and shoulder massages; they are designed in house and are a combination of lifting and pressure point techniques. I feel so rejuvenated after each session!