Chef Ivan Brehm is best known for leading The Kitchen at Bacchanalia in Singapore to its first ever Michelin Star in 2016 as the Executive Chef. He was previously working in the kitchen of Per Se in New York and Hibiscus in London. He now leads the team at Nouri.
With a mix of 7 different heritages, Chef Ivan Brehm has developed a cuisine as eclectic as his own lineage. Editor-in-Chief, Gursheel Dhillon finds out more about Nouri which is part of Unlisted Collection, from the Chef himself.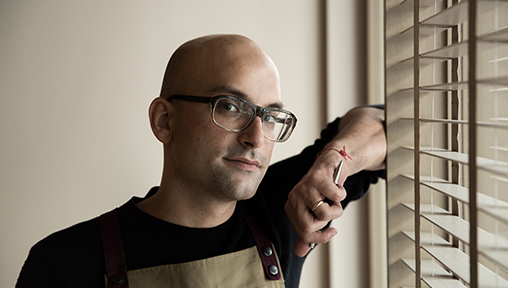 Gursheel Dhillon: What's the inspiration for Nouri?
Ivan Brehm: The word, Nouri, is rooted in the latin word for nourishment. "Crossroads cooking" is how we best describe our food. Our dishes take influence from around the globe while highlighting the cross-cultural similarities and connections we all share, irrespective of our different backgrounds. Food is a significant marker in any culture and a medium with which we explore a shared history. Establishing connections through food also extends to the design of our restaurant. A Chef's table serves as the space for the social interplay between our guests and our chefs. It sets the stage for a convivial experience that is highly gastronomic and interactive.
Gursheel Dhillon: What can we expect and look forward to at Nouri?
Ivan Brehm: We want to explore a guest's sense of what's familiar to them, even if they are experiencing an original dish and presentation for the very first time. They'll find several dishes that may appear different but with flavours that resonate with them upon tasting.
A Brazilian street snack known as Acarajé is better understood and appreciated in this part of the world when similarities to more familiar flavours are highlighted. We pair the dish with a salted prawn and coconut sauce, a traditional accompaniment in Brazil but one that is also reminiscent of a rendang, or Thai Curry here. The entire menu is filled with culturally relevant markers that serve to highlight that regardless of our cultural reference point, there are more similarities and connections we share through food and cooking than we realise.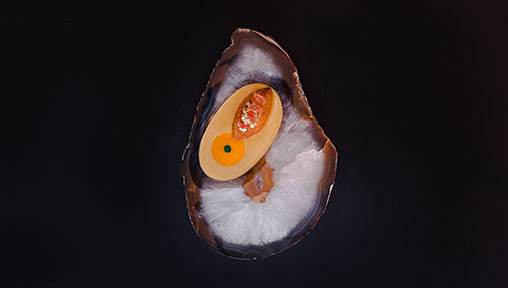 Acaraje and Vatapa- Afro-Brazilian fritter, turmeric and coconut sauce, bread and salted prawn vatapa
Gursheel Dhillon: How different will the lunch offerings be from dinner?
Ivan Brehm: For lunch, we're offering a Teishoku style set lunch menu that comprises of a main dish selection, and several complementary side dishes. A 5 course omakase lunch menu is a fast introduction to Nouri and its cuisine. Lunch is a tasty offering but is designed to be served quickly to accommodate for a working crowd. The flavours of the lunch menu are more intense as we have limited time to make an impact on a diner's experience. Dinner is the best way to experience the idea of 'crossroads cooking' and the creativity of our kitchen. It is a more leisurely affair, where guests can enjoy a 5 course and 7 course menu in addition to a 7 course omakase menu.
Gursheel Dhillon: Any reason why dinner will mainly consists of tasting menus initially?
Ivan Brehm: We wanted to create a place to celebrate people; a place where we could make connections with our guests and where our guests could, in turn, connect with each other. A tasting menu gives us the perfect format to share our own stories and convey what the restaurant is all about, course by course. It is also the best vehicle for the chefs to express their ideas and inspirations.
Gursheel Dhillon: Your favourite local food places in Singapore?
Ivan Brehm: Tin Heng Eating House in Tiong Bahru. South Indian food at New Woodlands.
Visit Nouri for more information.
Image credit: Robin Thang