Diwali, the festival of lights, symbolising the win of good over evil, is celebrated by Hindus all over the world. This year, the public holiday falls on Wednesday, 18 October 2017. Indian families all over Singapore will be lighting oil lamps and opening their homes to welcome families and friends.
Where To Eat
Here's a selection of places to visit for delectable Indian food and beautifully designed sweet boxes that can subsequently be used to store jewelry or spices.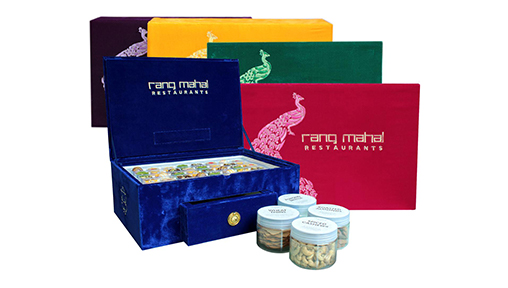 In line with the Diwali festivities, Rang Mahal will have a special lunch buffet ($58++) on 18 October 2017. Curated by Head Chef Milind Sovani, the spread will feature regional festive dishes such as Lucknavi Nalli Ghosht (lamb) and Shahi Zaffrani Kofta (vegetarian dumpling). There will also be live stations featuring classic street food favourites such as Dosai (crispy pancakes filled with different spreads).
The creative award-winning chefs have come up with a number of winning dishes including Avocado Kebabs, Kathal Biryani (jackfruit), and Anjeer Kulfi (fig ice cream).
Rang Mahal also presents their Majestic Mithai Collection comprising 4 flavours - Mango made with alphonso sweetness and topped with silver candy; Pistachio mithai made with grounded pistachios moulded delicately and dusted with gold; Saffron-Lentil made with slow-roasted gram flour; and Fruit & Nut offers a healthier alternative with no added sugar and made of a crunchy medley of luscious figs and premium dates.
For more information, call (+65) 6850 7980 or email marketing@rangmahal.com.sg.
This Diwali, Yantra by Hemant Oberoi proudly presents a special lunch and dinner buffet ($68++) on 18th and 19th October 2017. The buffet spread will consist of an array of live cooking stations such as Chaat, and carving stations for Kebabs and Raan (aromatic leg of lamb).
Topping the buffet spread is their signature Crab Galouti and Quinoa Papdi. The Diwali sweet boxes consist of popular traditional mithais - Pista Sona Barfi, Kaju Katli, Besan Ladoo, Motichoor Ladoo, and Dates & Nuts Barfi. They are also offering savouries that include four types of home-made spiced nuts consisting of Macadamia, Pistachio, Almond and Cashewnuts.
For more information, call (+65) 6836 3088.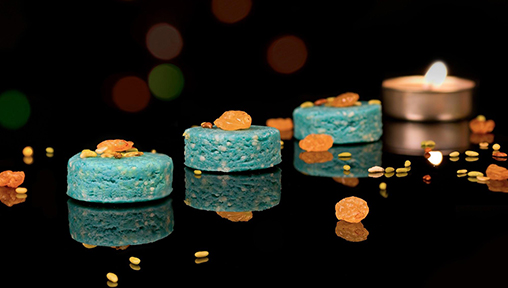 In true Diwali spirit, Punjab Grill is celebrating this public holiday with an exquisitely crafted 5 course menu with non-vegetarian and vegetarian options ($99++). The non-veg menu features Lobster Minced Dumpling Kebab and Tandoori Duck Korma. The vegetarian course includes dishes such as Beetroot and Pumpkin Seekh Kebab, and Exotic Vegetable Lollipop Nihari. Chef Javed Ahamad sure has a knack for creating delcious indian dishes with local influences, using unconventional ingredients not usually found in Indian restaurants.
Punjab Grill also offers a colourful and vibrant range of Mithai that include hand-crafted sweets - Darjeeling Green Tea pista barfi; Blueberries Delight Dulce; Macadamia Nuts & Saffron swirl roll stuffed with rose petals marmalade; and sugar free dates and figs.
For more information, call (+65) 6688 7395 or email Ramesh@punjabgrill.com.sg.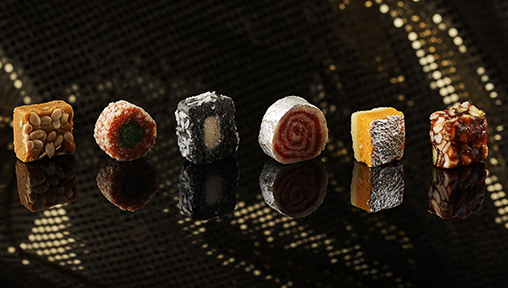 Southeast Asia's first and only Michelin star Indian restaurant presents gastronomic delights that celebrate the traditional Indian culinary roots this Diwali. From 18th to 22nd October 2017, guests can feast on local flavours with dishes such as Chargrilled Laksa Chicken Kebab and Sambal Barramundi Tikka. There is also a vegetarian menu that features Tofu, Sprouts & Anardana Kebab (pomegranate) and Tiranga Kofta Curry (spinach and cheese dumplings in tomato sauce).
Created by Chef Manjunath Mural and his team, the Premium Celebration Mithais offer 3 signature flavours including Alphonso Mango Burfi combined with white chocolate and gilded with precious silver and Rose Gulkhand Roll with cashew. The 3 new limited edition flavours are - Gula Melaka infused with saffron; Black Sesame, Charcoal & Organic Coconut; and Pink Guava & Pistachio studded with almond bits.
For more information, call (+65) 6836 0055.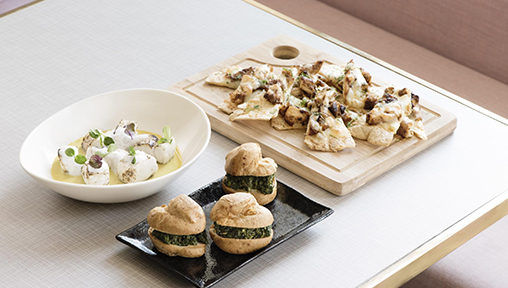 Exclusively from 5th to 29th October 2017, SPRMRKT Kitchen & Bar will be serving Indian snacks inspired by the customary spread that fills a table when a guest visits a house that celebrates Diwali.
Enjoy the delightful Paneer Gougère with Palak Cream ($16++) - cottage cheese choux pastry with a luscious filling of puréed spinach accentuated with spices; Bengal Paturi Royale with Coconut Broth ($18++) - royale of eggs combined with barramundi and house-made rempah, topped with a herbaceous coconut broth; and Chicken Masala Alsatian Flat Bread ($18++) - house-made tarte flambée forms the base to a moreish layer of mozzarella cheese, pearl onions, sour cream, crème fraiche and succulent chicken masala.
To accompany the meal is a Honeyed Chai Cocktail ($16++) with bourbon, amaretto, honey, French cream, whipped cream, as well as Grounded Pleasure's Seven Spice Chai.
What To Do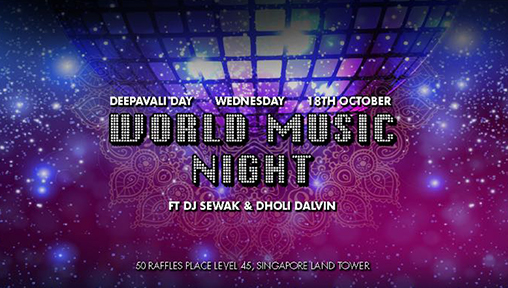 Nothing says Diwali party like a good bhangra night. Ready to bust some moves on the dance floor? That too 45 floors high in the sky? Catch DJ Sewak spinning his tunes and the colourful Dholi Dalvin dropping his drum beats this Diwali from 10pm. On Wednesday, 18th October 2017, the party at Singapore Land Tower's rooftop continues till late. Cover charge is $20.
Bottle Deals: 2 Henessy VSOP @ $348 / 2 Moet & Chandon @ $198 / 2 Belvedere @ $298 / 2 Johnnie Walker Gold Label @ $348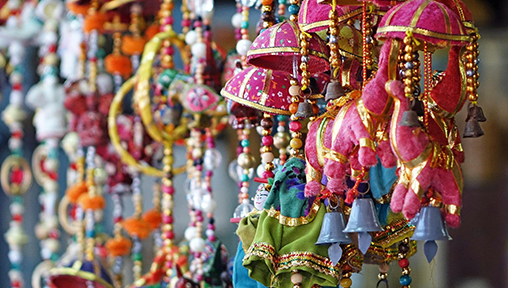 For the authentic Singaporean Deepavali experience, head to Little India where the streets are buzzing with night lights and bazaars that sell colourful ethnic clothes, intricate jewelry, ornamental decorations, and sparklers. Not to mention, the various indian snacks and sweets that will be available such as cookies, mithai and muruku. Serangoon area is also where you can join the festive mood by getting henna art on your hand or arm.
For more information, visit https://www.littleindia.com.sg/events-calendar.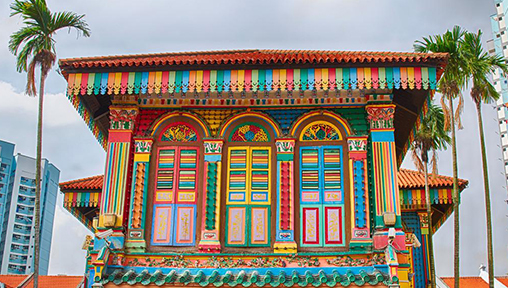 Diwali is just the right occasion to get acquainted with the exotic colours, aromas and festivities in the Serangoon area. Aptly named 'Dhobis, Saris, and a Spot of Curry', this tour by award-winning The Original Singapore Walks is fun, interactive, and a great opportunity to gain insights into the vibrant community of Little India.
The knowledgeable and informative tour guides will walk you through the history, heritage and cultural traditions of Indians in Singapore. Key sights include the Sri Veeramakaliamman Temple, bazaar at Little India Arcade, Tekka Wet Market, Spice Mill, and the paan and garland store. You'll even get to learn how to tie a sari!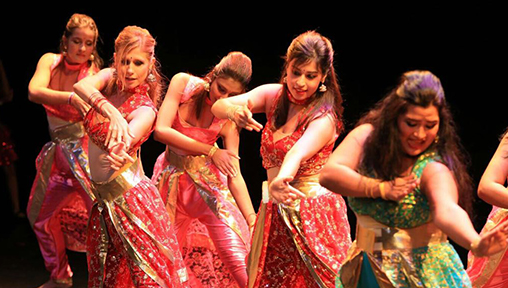 Put your dancing shoes on and join the dancers of Dance Bollywood International for a night filled with vibrant, colourful and glamorous performances. Taste the true essence of Bollywood from 5pm to 7pm followed by an Indian buffet ($35) serving authentic Diwali treats.
Venue: Singapore Polytechnic Convention Center
Date & Time: 5pm to 7pm on 22 October 2017, Sunday
For tickets, click here.
Anyone who has been acquainted with the local comedy scene has heard of the celebrity comedian Kumar. He will be entertaining guests at the ball on the eve of Diwali, 17 October 2017 with his witty humour together with other international acts. The night will be filled with laughter, jokes, and prizes to be won. Better yet, did we mention there is a free-flow of wine and beer from 7.30pm to 9pm?
For tickets and more information, call +65-9029 8383.