When the lanterns along Chinatown are lit and the lunar calendar approaches a full moon, we know that Singapore is getting ready for the Mid-Autumn Festival. The festival was traditionally celebrated to thank the Gods for a good harvest at the end of autumn.
While the festival falls on 4 October this year, mooncakes start selling weeks before. Legend has it that mooncakes were used to send hidden notes to coordinate a rebellion against Mongolians who were ruling China during the Yuan Dynasty.
Snowskin mooncakes refer to those with crusts made from glutinous rice flour and served cold, while traditional mooncakes are baked. As the festival approaches, we at Vanilla Luxury have picked for you the best snowskin mooncakes to accompany your tea.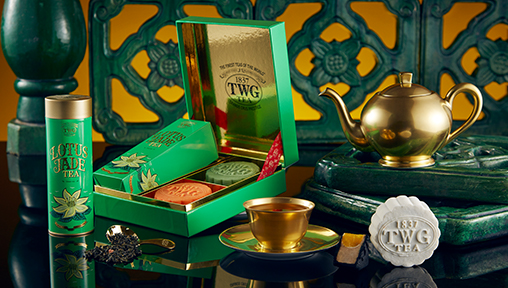 TWG Tea narrates the story of Mid-Autumn Festival through its Lotus Jade Tea mooncake collection. The collection, which will be available from 31 August 2017, includes 4 traditional flavours and 4 snowskin mooncakes - Moonlight, Blossom, Pure, and Illumination.
Beckoning a new dawn, the Moonlight mooncake glows in a luscious jade green snowskin, featuring a Lotus Jade Tea infused mousseline and a white chocolate heart filled with a sweet Nashi pear marmalade.
An ethereal satin white snowskin mooncake encases the Pure mooncake filled with smooth dark chocolate mousse infused with the fruity and flowery notes of 1837 White Tea, revealing a heart of tangy blackcurrant marmalade and white chocolate.
Tel: (+65) 6565 1837
Address: The Shoppes at Marina Bay Sands, 2 Bayfront Avenue, B2-65, Singapore 018972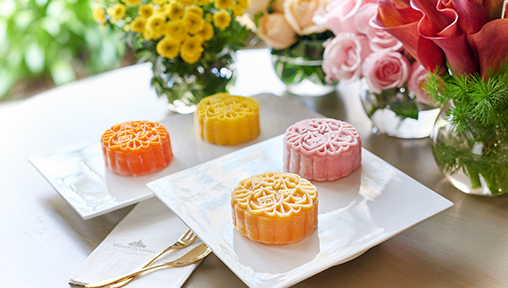 Goodwood Park Hotel has raised the bar for unique snowskin flavours that will make this season a memorable one. The talented pastry team is has come up with a number of new creations this year.
The Prickly Pear with Bergamot Snowskin Mooncake is filled with fruit of the cactus plant, which has a juicy texture and mellow sweetness. The Apple Cider Snowskin Mooncake comes in a deep pink colour and contains the refreshing balance of sweet and tangy flavours from the cider. Finally, the Root Beer Snowskin Mooncake is a crowd pleaser with strong flavours from the vanilla beans mixed with a hint of rum.
The mooncakes will be available from 23 August to 4 October 2017 and are presented in elegant boxes with exquisite Oriental illustrations. A 15% discount applies on all items for online orders only.
Tel: (+65) 6730 1867 / 68
Address: 22 Scotts Road, Singapore 228221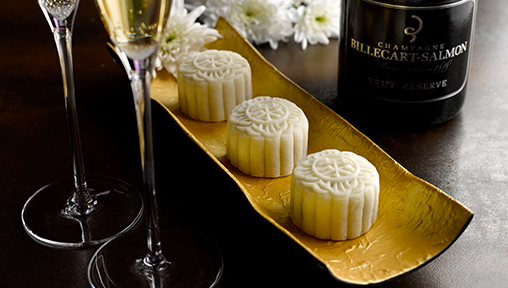 The Strawberry Yoghurt and Crunchy White Chocolate Pearl Snow-Skin Mooncake is the new flavour this year as Raffles Singapore celebrates its 130th anniversary.
Their Signature Champagne Truffle and Ganache Snow-Skin Mooncake has been an annual favourite and pairs well with a glass of champagne. Returning this year are the other beloved snow-skin favourites - Cognac Truffle, Dark Chocolate Crunchy Pearl, and Earl Grey Tea and Chocolate Pearl Truffle.
At this time of joyous family reunions, moon gaze with Raffles Mooncakes, available from 20 August to 4 October 2017. Online purchases are available from now till 25 September.
Tel: (+65) 6412 1122
Address: 1 Beach Road, Singapore 189673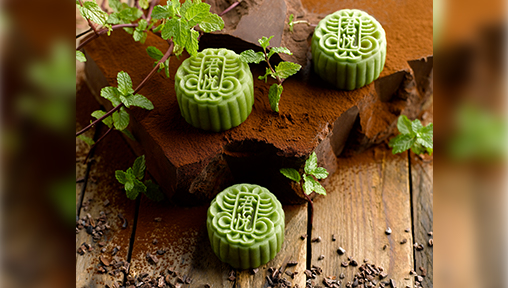 Designed to delight any recipient, these delicately handmade mooncakes will be packaged in intricately patterned boxes featuring a mosaic of roses with red and gold floral accents.
There are 2 special snowskin flavours that take the centrestage. The Chocolate-Mint snowskin mooncake is the perfect balance of white and dark chocolate that reveals a delicately refreshing mint fondant centre. The Violette and Gin snow-skin mooncakes (featured banner image) are a beautiful hue of purple and offer a distinctive floral flavour, with the infusion of Tanqueray No. TEN gin and crème de violette liqueur.
All mooncakes will be available for sale at the shop in mezza9 and at the Lobby shop on the hotel's ground floor from 29 August to 4 October 2017.
Tel: (+65) 6887 5492
Address: 10 Scotts Road, Singapore 228211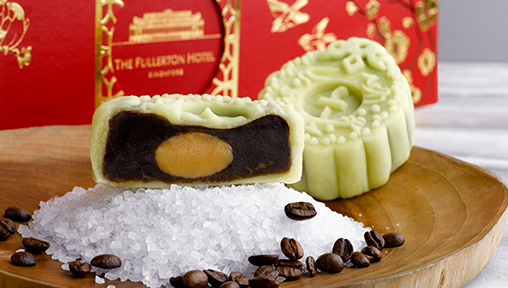 From 18 August to 4 October 2017, signature flavours such as Pandan with Gula Melaka Snow Skin Mooncake and The Fullerton Golden Custard Mini Mooncake make their anticipated return, complemented by four new flavours.
The Kopi with Salted Hokkaido Milk Snow Skin Mooncake is filled with robust coffee paste and a salted milk core. The Tangerine Lemon and Pistachio Snow Skin Mooncake brings back nostalgic memories of lemon tart biscuits from childhood.
The Pandan with Coconut Baked Mooncake is inspired by Singapore's favourite pandan chiffon cake. With one of the most distinct combinations, the Salted Taro with Peanut Butter Baked Mooncake makes up the final new flavour.
To order or for advanced corporate and bulk purchases, email or visit their online store.
Address: 1 Fullerton Square, Singapore 049178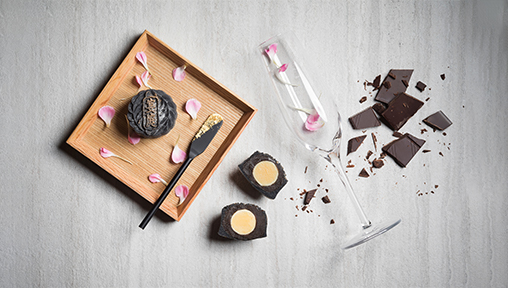 Making its debut is the Champagne Truffle with Chocolate Paste. Wrapped in a black sesame skin accentuated with hints of gold, this mooncake features a rich bittersweet chocolate paste complete with a truffle bursting with the vibrant taste of champagne.
Discerning health-conscious gourmands will also enjoy the Reduced Sugar Green Apple Paste with Macadamia Nut Snow Skin Mooncake. In this creation, nutritious macadamia nuts – low in cholesterol and sodium, and high in omega-9 fatty acids – are encased in a paste infused with the refreshing natural aroma of green apple.
Yan Ting's mooncakes will be available from 21 August to 4 October 2017. For more information email.
Tel: (+65) 6506 6852
Address: 29 Tanglin Road, Singapore 247911