Looking to escape from the overcrowded beaches and overhyped restaurants of the much-advertised beach destinations? Forget Bali and venture out to the relatively under-the-radar island off the Southern tip of India – unforgettable Sri Lanka.
Here, away from throngs of tourists, you are free to revel in the unforgettable beauty of the coastal villages and shorelines and unwind at the beautifully appointed, tranquil resorts for a truly rejuvenating holiday. With most of the easier-to-access beaches concentrated on Sri Lanka's West and South coasts, we give you the guide to some of the worthwhile sandy destinations in the country.
1. Unawatuna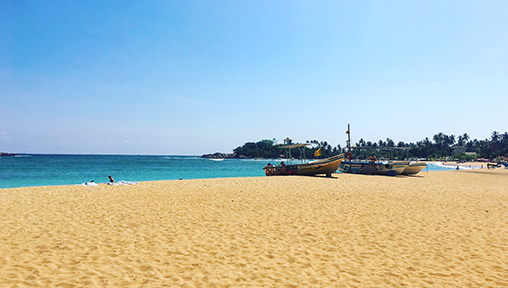 One of the more popular beach resorts, Unawatuna is located a short tuk-tuk ride away from the historic town of Galle and is peppered with boutique resorts and local handicraft shops. Stretching along one kilometre of golden sand covered, palm tree-lined coastline, Unawatuna is an iconic vision of Sri Lanka, as pictured in postcards.
To experience true Sri Lankan living, forego staying at bigger, more crowded hotels, and explore Unawatuna's many warm and welcoming guesthouses. Be sure also not to miss Bedspace Kitchen – the guesthouse has developed a reputation for some of the best home-cooked meals on the island with its menu changing every night.
2. Hikkaduwa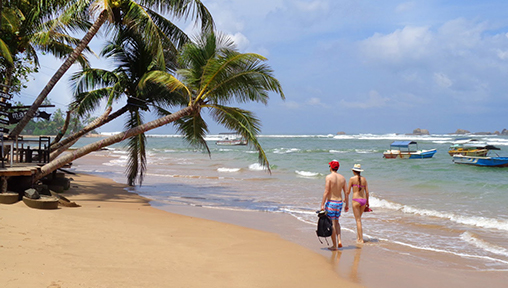 A relaxing, picturesque beach with a number of resorts situated along the coastline, Hikkaduwa Beach is famed for its coral sanctuary filled with multi-coloured fish. A destination for surfing and diving, the beach offers a range of higher-range hotels and relaxed beachfront bars that echo back to the destination's original hippie roots.
While there are no particularly memorable dining destinations near the beach, the locale is absolutely worth a day trips for its unforgettable sights and general laid-back attitude that offers a welcome reprieve to city life.
3. Tangalle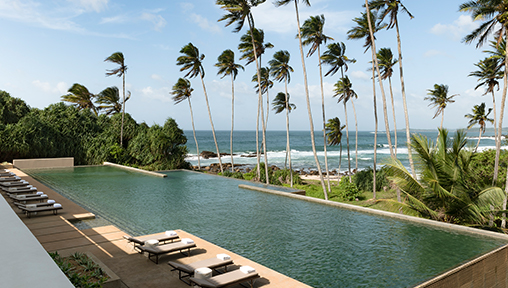 One of the furthest beach destinations along the Southern coast of Sri Lanka, Tangalle offers a multitude of small, less explored beaches that are worth a visit for their picture-perfect views and perceived exclusivity.
Previously a backpackers' destination, Tangalle has risen up the ranks of luxury with the arrival of several high-end beach resort, including Amanwella boutique resort that offers several decadent indulgences like private cocktail experiences and warm-oil Ayurvedic treatments. For a delicious seafood barbecue, stop by The Lounge Bar, where you can feast on the freshest catch of the day and sip cocktails at a bar with swings.
4. Koggala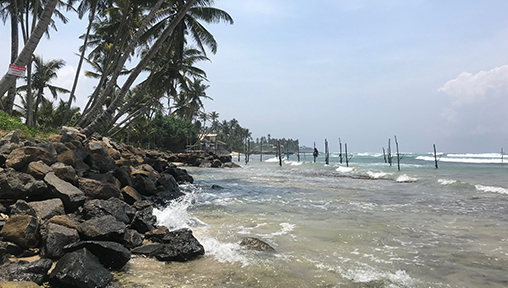 The small coastal town of Koggala is also a home to a still relatively unknown white sand beach. The longest beach in Sri Lanka, Koggala beach offers snorkelling, diving and surfing, while still enjoying a more secluded atmosphere than the more populous Unawatuna Beach, located nearby.
Besides its scenic appeal, Koggala's other landmarks include Koggala lagoon, abundantly filled with mangroves and birdlife. Get your bearings and the luxury wellness residence of Kahanda Kanda, set amidst tea plantations a short ride away from the beach before taking a boat ride out to Ananda Spice Garden to enjoy some local herbal wine.
5. Mirissa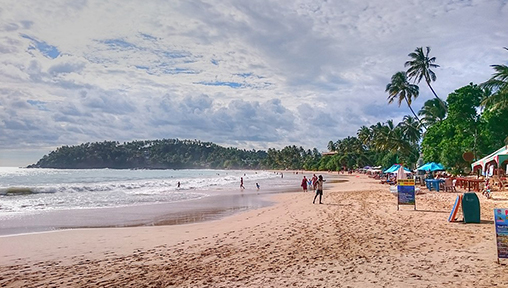 With the sights to match its poetic name, Mirissa is a beach paradise in the deep South of Sri Lanka. Still untouched by the growing commercialisation of the country, Mirissa is the prime destination for whale watching, with whale watching boats operating out of the adjacent Mirissa Fisheries Harbour. With some of the calmest waters and shallowest shorelines, Mirissa is becoming popular with families looking for a stress-free holiday in Sri Lanka.
While there are no upmarket or luxury hotels in the area, there is plenty of delicious food at Mirissa's charming restaurants. Visit Zephyr for beachfront dining and fresh seafood selection and Kama for Happy Hour frozen margaritas.