Bali is buzzing with healthy food and wellness retreats. It's surely the place to go to enjoy both a holiday and a healthy one at that. In the past 20 years, tourist hotspots like Kuta, Seminyak, and Nusa Dua have been flooded with resorts, hotels, and villas, which have overtaken much of the natural resources to grow fresh, local produce. Therefore, slipping away to the less crowded countryside has become the norm, if you are seeking tranquillity and rejuvenation while on holiday.
Ubud is known for its healthier (and usually cheaper) food options, but a 2-hour drive to the hills and rice paddies may seem a bit too far for a weekend jaunt. Luckily, health advocates have opened cafes closer to the airport too. Hotels and resorts are catching onto the trend as well, making it that much easier to feel good flaunting your hottest bikini.
One great area to check out is Jimbaran just a 10-minute drive south of the airport. Known for it's fresh-caught seafood, you don't have to venture far to eat healthy and local. This area is also home to some of the biggest hotel chains and makes for a great stay too. Whether you fancy Italian or Indonesian, salad or sushi, there are several restaurants that deliver satisfyingly wholesome options. What is more, with the evolving tourist eating scene, you will often find menu options tagged with icons for vegetarian, spicy, contains nuts, pork, seafood, or dairy.
Start right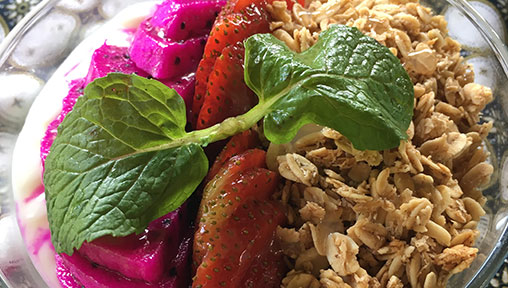 Start your day strong with a nutrient-packed breakfast. Choose from options like chia seed pudding with banana and date, as well as raw coconut "porridge" with nut-and-seed granola. Balquisse Heritage, is one such restaurant where they serve up a three-course made-to-order breakfast, starting with a bread basket with homemade local jams. Next round choose the ricotta pancakes with berries and Sumbawa honey or the homemade yogurt with sliced fruits and granola. Fill up with the brunch beloved eggs benedict or smashed avocado toast with poached egg. Wash it all down with warm ginger tea and a glass of lime-infused coconut water.
Local or international, you are sure to find plenty of options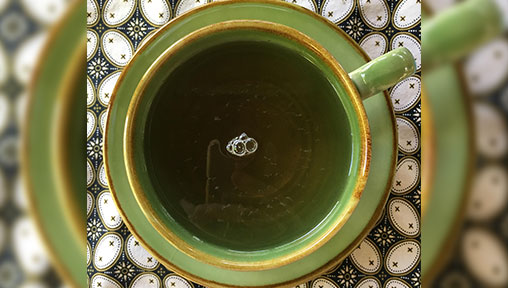 Try the local favourite Gado-Gado, which is loaded with vegetables like cabbage and carrot, served with tofu, tempeh, egg, and homemade peanut sauce. Another local dish Dang bakar bomb cobek, is grilled prawns coated in sambal with sides of grilled eggplant and steamed rice with sweet potatoes in banana leaf.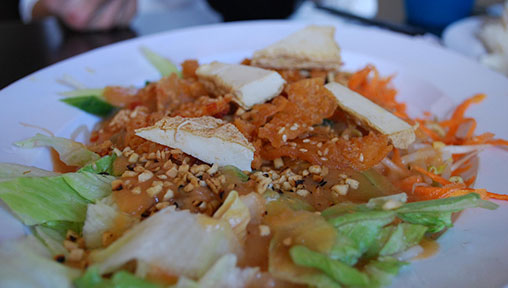 If Indonesian isn't your thing, there are plenty of options available across the city. Go nutritious and delicious with a roasted pumpkin and quinoa salad or the confit Tasmanian salmon with grilled Mediterranean at Jimbaran Gardens, at the Intercontinental hotel for instance.
Special diets?
Raw foodies rejoice as there are plenty of options for you too! Have your pickings of caesar salad raw food style, pine nuts tofu and farm beef tomato salad, warm coconut noodle wrap, nuts and seed raw pizza, and warm pumpkin noodle roll.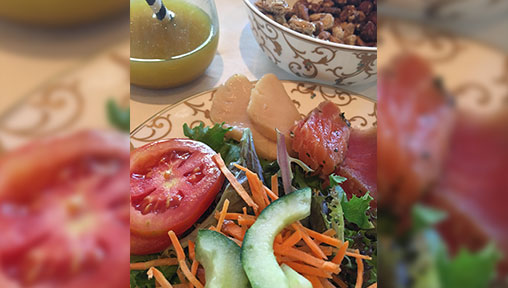 How does a delicious zucchini lasagna sound? So, good even meat-lovers may convert to the raw food lifestyle. Stroll over to Bella Cucina for chilled Plaga farm beef tomato soup, raw vegetables fettuccini marinara, and that lasagna. Love desserts? Try their raw chocolate mousse or lemon pie.
Don't let your healthy choices come in the way of holidaying, especially in Bali. With options like these, eating well has never been so easy or so tasty! Cheers to making the healthy lifestyle not just a trend but a transformation.