After all the beach holidays around South East Asia, we recommend that India should be your next destination to explore. It has, after all, been gaining huge popularity as a tourist destination this year.
Here's an insider tip from us to you, Deepavali is the best time to head to India. Deepavali is one of the biggest celebrations in India (almost synonymous to Christmas in America). It's the time of the year where the whole country is lit up, everyone is out shopping for clothes and there's always delicious food!
So this Deepavali, book your tickets and fly off to see the beauty of India. While the options of flights are many, we recommend taking Jet Airways. Yes, we're talking about the same airline where a child was born on this year and was given free flights for life.
Why Jet Airways, you ask? Here are 10 reasons to take Jet Airways when flying to India.
1. Jet Airways Explore India Pass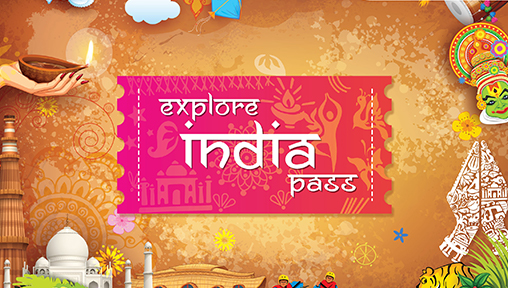 If you're out to explore India, then this could be highly beneficial for you. Jet Airways is the only carrier to be having such a program. When you book your tickets and avail of the Explore India Pass, you are provided with a single booking reference for all your domestic and international flights.
What does this mean? In the simplest way we can describe, this means carrying only one ticket instead of multiple ones for all your local journeys. It means having the flexibility of rerouting and changing your internal flights at a minimal fee. And most importantly, this also means having enhanced baggage allowance.
For those of you travelling to India for the first time, majority of local flights only allows 15kgs baggage, having the Explore India Pass means you get the same baggage allowance as your international flights.
2. Guarantee on the Best Fares and Deals when Booking Through the App
With the rise of third party booking websites that claim to get you the best flight deals, it's easy to succumb. But when travelling with Jet Airways, you are guaranteed the best fares on their website and mobile application.
In fact, during the previous National Day of Singapore, Jet Airways had an exclusive promo that offered guests tickets to India at 52% off! Such exclusive deals can only be availed at their website and mobile app.
Jet Airways also offers 'Zero Penalty Fees' for changes or cancellations within 24 hours of booking on the website or mobile app.
3. Lock in Your Fares with Fare Lock
Need extra time to confirm your travel plans but don't want to let go of the current fare promotion? Jet Airways has a Fare Lock program to make sure you don't miss out on anything.
You can now enjoy the additional time and confirm your booking with the same fare at a later date, with Fare Lock. This program is optional and available at a nominal fee.
4. Stay Connected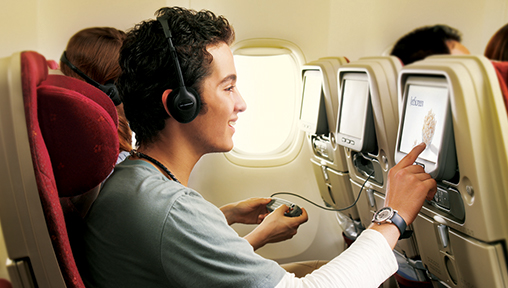 Welcome aboard Jet Airways, where keeping yourself entertained throughout the journey is never a problem. With a huge collection of the latest movies, TV shows, music playlists, games and more, you're spoiled for choices. Jet Airways flights also features in-seat telephones, SMS and email services, as well as power outlets to charge your electronic devices to make sure you stay connected when you travel.
5. JetPrivilege Miles and Perks
A passenger is more likely to stay loyal to an airline if they know it brings them great value in return. Jet Airways' frequent flyer program, Jet Privilege allows you to earn JP Miles every time you fly. You also earn a bonus of 250 JP Miles when you book on their website. JP Miles can also be earned when travelling Jet Airways partner airlines such as Etihad and 24 others.
You can then use these miles and redeem for reward tickets. Other privileges that come with being a JetPrivilege member include pre-booking your seats on international flights, priority boarding, excess baggage allowance and more.
6. On Board Meals Have Never Been Better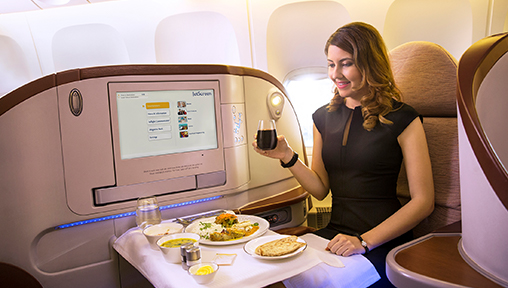 Jet Airways being a full-serviced flight provide complimentary meals to all their guests. And we're not talking about just any type of meal, we're talking about meals prepared by renowned chefs in state-of-the-art kitchens.
International or Indian cuisine? The choice is yours. The Jet Airways 'Sky Chai' was indeed one of our favourite features. A concept that allows you to enjoy exquisite teas from around the world on board the aircraft. They also offer a wide variety of special dietary meals including gluten-free, diabetic, child-friendly meals and more.
7. Friendly Staff
The one thing that makes any airline standout from the rest is always their service and hospitality. Jet Airways boasts of providing warm Indian hospitality to any passenger that comes on board. Expect to meet the friendliest of cabin crews awaiting you on board with warm smiles.
8. Leg Room Even in Economy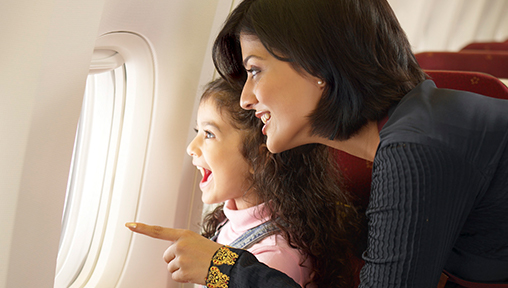 When travelling economy, the primary concern is always legroom. Who wants to sit through a 5-hour flight cramped on space? Jet Airways economy class has a 6-way headrest and a hammock footrest along with plenty of space. Their ergonomically designed seats make sure that you'll arrive your destination ready for adventure.
9. Large Network
Jet Airways flies to 64 destinations within India and across the world and is one of the fastest growing airlines in the worlds. They actively partner with various international airlines allowing you to fly to even more destinations across the world.
10. India Doesn't Have to be your Final Destination
Headed to London, Paris or Amsterdam? Choose Jet Airways and transit through India. The choice is yours whether you'd want to stop over for a day or two to explore the beauty of Incredible India or if you'd rather transit at the airport. In fact, if you're flying from Singapore, Jet Airways offers one of the shortest layover hours to European destinations.
Thank you, team Jet Airways for your warm hospitality. Until we meet again!
Get the best rates and deals on Jet Airways flights through their website and mobile app.