When it comes to concerns relating to your face and body, believe us when we say you are not alone! From adult acne to managing that stubborn cellulite (blame those brunches!), there are a few aesthetic problems that a majority of us face in Singapore. We spoke to leading skin specialist, Dr Sylvia Ramirez on these problems and easy ways to overcome them.
What are the key aesthetic problems faced by men and women in Singapore?
Dr Sylvia: More than half of the patients we see in our clinic are expatriates aged 30 upwards. Both male and female patients are mostly concerned on reversing physical signs of aging, improving skin tone and texture, improving facial contours as well as removing unwanted hair and body fat.
Wrinkles, sagging skin and volume loss though, are the most common beauty concerns that majority of our patients want to reverse and get rid of. Acne is another big issue. A lot of the patients who come through our doors are looking to remove acne, acne scars and pigmentation in order to get a clearer, brighter complexion.
What are the ways in which we can treat or deal with each of these?
Dr Sylvia recommends the following for each of the 5 top aesthetic concerns:
1. Reversing physical signs of aging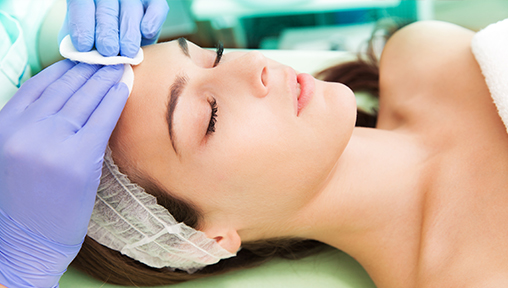 When it comes to wrinkles or sagging skin, these are commonly caused by aging that causes the skin becomes thinner. Easy solutions to this problem are:
Botox® is an FDA approved treatment for wrinkles. It is a quick, simple, non-surgical procedure (with no downtime) that temporarily relaxes wrinkle-causing muscles, resulting in a smoothed rejuvenated appearance. The procedure takes about 5 minutes and feels like tiny ant-bites.

Facial fillers are FDA-approved wrinkle treatment made up of hyaluronic acid fillers as well as calcium based filler.

Ultherapy® Ultherapy® is the only US FDA as well as a European CE mark non-invasive lifting procedure that has no downtime.

Titan Skin Tightening is an FDA approved treatment that results in significant collagen production according to clinical studies, and it is used to treat the areas of the face including the jowls, cheeks, and eye areas.
2. Improving skin tone and texture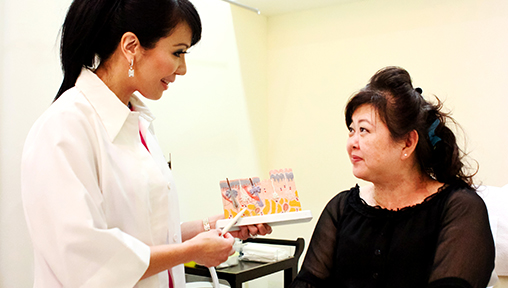 Acne begins when the pores of the skin are clogged with oil and dead skin cells, giving birth to bacteria and consequent inflammation. Some acne scar fade away on their own but others, as you know can leave a mark on the skin.Depending on the severity of your condition, a combination of these treatments may be needed to provide best results:
Limelight IPL or intense pulsed light treatment is a series of light/laser treatments where pigments are removed during each treatment by pulses of light.
Prescription Peel or Cream-based options such as Cosmelan, a depigmentation mask or the other is a lightening cream under Dr. Sylvia's Skin Care which contains hydroquinone.

Cutis Vitality Peel, (Retinoic, Hydroquinone, Kojic, Hydrocortisone, TCA, Phenol, Salicylic and proprietary mineral blend) helps to improve the tone, texture and clarity of the skin.

The VI Peel, which is a specially formulated, medical-grade chemical peel designed to improve skin tone, clear acne skin conditions and stimulate the production of collagen, for firmer, more youthful skin.

Laser Genesis, an FDA approved treatment without downtime, which reduces the inflammation and helps heal potential scarring from acne.
3. Improving facial contours
Over the years, our lips lose their natural plumpness, making them appear significantly thinner. Facial contouring can be used to give them volume and you an overall more youthful appearance. Another common issue is a prominent jawline which is due to enlarged masseter muscles - the facial muscle that plays a major role in the chewing of solid foods. This too can be corrected using a number of measures. If you are looking to improve your facial contours without surgery, go for one of these treatments:
Botox can address a prominent jawline by relaxing and shrinking these muscles. Botox also can be used to "slim" the face when it is injected into muscles that we use for chewing along the angles of the jaw.

Facial fillers, such as Juvederm and Restylane which are hyaluronic acid fillers as well as Radiesse which are calcium-based filler, can also be used to augment the chin or jaw and also to add volume and reshape the lips without surgery.
4. Removing unwanted hair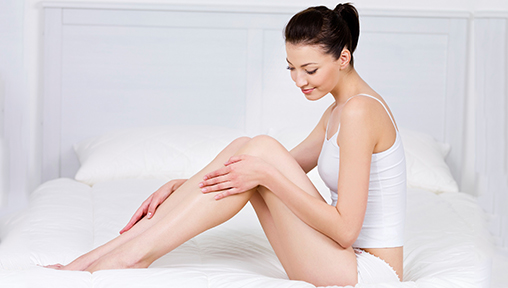 Unwanted hair can have many causes, including genetics, certain medications such as steroids, higher levels of certain hormones, and for some women it may be due to polycystic ovarian syndrome (PCOS) – increased male hormones in the blood (androgens).
Before starting any hair removal treatment, it is crucial for the patient to know which type of hair removal systems are safe and effective for their skin type which can be discussed during a consultation. Post that, your doctor can recommend one of these treatments:
Cutera Laser hair removal system has a longer wavelength and innovative cooling design providing safe and permanent results for patients with darker skin types as well as tanned skin.

Cutera ProWave IPL hair removal delivers a specially designed light spectrum to disable the growth of hair follicles that can shift depending on the patient's skin type - which is why we call it Intelligent Pulsed Light and not Intense Pulsed Light.

LHE (Light and Heat Energy) hair removal offers a fast and advanced permanent hair removal solution using a combination of light and heat that results in the destruction of hair follicles and is particularly suited for more sensitive skin.
5. Reducing body fat
There are two kinds of fats: the visceral, which is found near the organs, and the subcutaneous, which is what you find under the skin. Only exercise and diet can shrink visceral fat. The subcutaneous fat, that gives you love handles, muffin tops and belly pouches, can be very stubborn, no matter the physical effort. If you are want to get rid of subcutaneous fat, try one of these options:
CoolSculpting procedure is FDA-cleared procedure that freezes away fat without surgery, needles or incisions. CoolSculpting uses safe non-invasive controlled cooling technology (Cryolipolysis) to gently and effectively target and eliminate stubborn fat in specific areas of a patient's body without harming the skin or other tissues.

BTL VANQUISH ME™ is a US FDA-cleared radio frequency technology (RF) to reduce inches in the abdomen, flanks and thighs. Vanquish is the only "contactless" RF procedure with the largest treatment area that precisely remove fat without any surgery, pain or downtime.
And there you have it. Easy solutions to the top 5 aesthetic concerns we face in Singapore. If you are looking to book a procedure or just want to find out more, contact Cutis Medical Laser Clinics at 6801 4000. They are located at 9 Scotts Road #08-07 Pacific Plaza.